We already know that Black and Hispanic-owned small businesses are severely under- represented in communities, and the COVID-19 pandemic will likely damage these businesses especially hard. In a report that should surprise no one, researchers with the JPMorgan Chase Institute found that businesses located in Black and Hispanic communities are less likely to have the cash available to survive the COVID-19 pandemic. In fact, most businesses in Black and Hispanic communities had fewer than 21 days of cash on hand to pay creditors, meet payroll and continue operations. Without immediate help, these businesses will cease to exist. This is very bad news, which could lead to further inequity in minority business ownership, a problem NCRC studies regularly and the main focus of its 2019 report on inequity in small business lending. While Hispanic and Black people represent 12.6% and 16.9% of the U.S. population, Black-owned and Hispanic-owned businesses with employees are only 2.1% and 5.6% of businesses.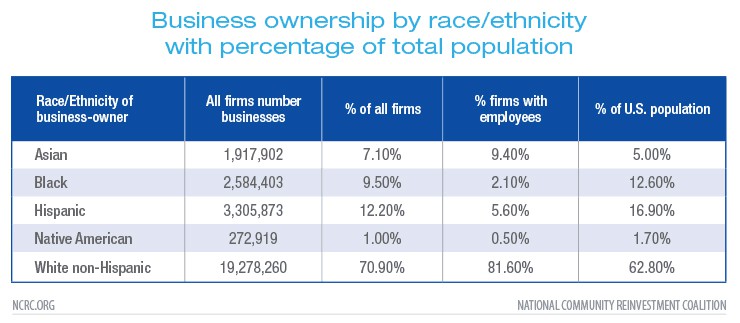 Overall, the JPMorgan researchers noted six major findings that spell trouble for all small businesses, and especially those in Black and Hispanic neighborhoods:
Small businesses=small profits

. In the typical community, one-third of small businesses are unprofitable, and almost half had two weeks or less of cash liquidity

Low levels of cash liquidity.

 Nearly 70% of communities where small businesses had limited cash liquidity in 2013 also had small businesses with limited cash liquidity in 2017.

Low home values=more vulnerability for small businesses. 

Small businesses in low home value communities had seven fewer cash buffer days than those in high home value communities. However, they had similar exit rates.

Communities with less education=small profits for small businesses

. Profit margins for small businesses in communities with few college graduates were over 10 percentage points lower than those in communities with many college graduates.

Proximity to high tech firms=higher profits for small businesses.

 Communities where small businesses had limited profits and cash liquidity rarely had large high-tech or other professional firms, but often had large retail or health care services firms.

Smaller cash buffer for small businesses in Black and Hispanic communities.

 In all majority Black or Hispanic communities, most small businesses had fewer than 21 cash buffer days.
These findings point to a rough road ahead for small businesses during the current COVID-19 crisis. This makes it especially important for the Small Business Administration to speed up processing and disbursement of emergency loans through its Economic Injury Disaster Advance Program  and Express Bridge Loan Pilot Program. The Paycheck Protection program expands the SBA 7(a) program, and SBA debt relief is also available. As the economic effects ripple through the economy, it's important to remember that the 29.6 million small businesses generated half of the U.S. GDP in 2014. We need to preserve small businesses, especially minority-owned small businesses which are already dramatically underrepresented in our economy.
Bruce Mitchell is NCRC's Senior Research Analyst
Jason Richardson is NCRC's Director of Research & Evaluation
Photo by Tim Mossholder on Unsplash