About NCRC
The National Community Reinvestment Coalition and its grassroots member organizations create opportunities for people to build wealth. We work with community leaders, policymakers and financial institutions to champion fairness in banking, housing and business.
NCRC was formed in 1990 by national, regional and local organizations to increase the flow of private capital into traditionally underserved communities. NCRC has grown into an association of more than 600 community-based organizations that promote access to basic banking services, affordable housing, entrepreneurship, job creation and vibrant communities for America's working families.
Our members include community reinvestment organizations; community development corporations; local and state government agencies; faith-based institutions; community organizing and civil rights groups; minority and women-owned business associations, as well as local and social service providers from across the nation.
NCRC represents its members before Congress, federal regulatory agencies and the press. NCRC routinely testifies before Congress, and meets with the leadership of banking and financial regulatory agencies. NCRC frequently provides expert commentary for national, regional and local media, and our research and policy papers are routinely cited by journalists, economists and scholars focused on banking, housing, urban renewal, rural development and civil rights.
Our Impact Last Year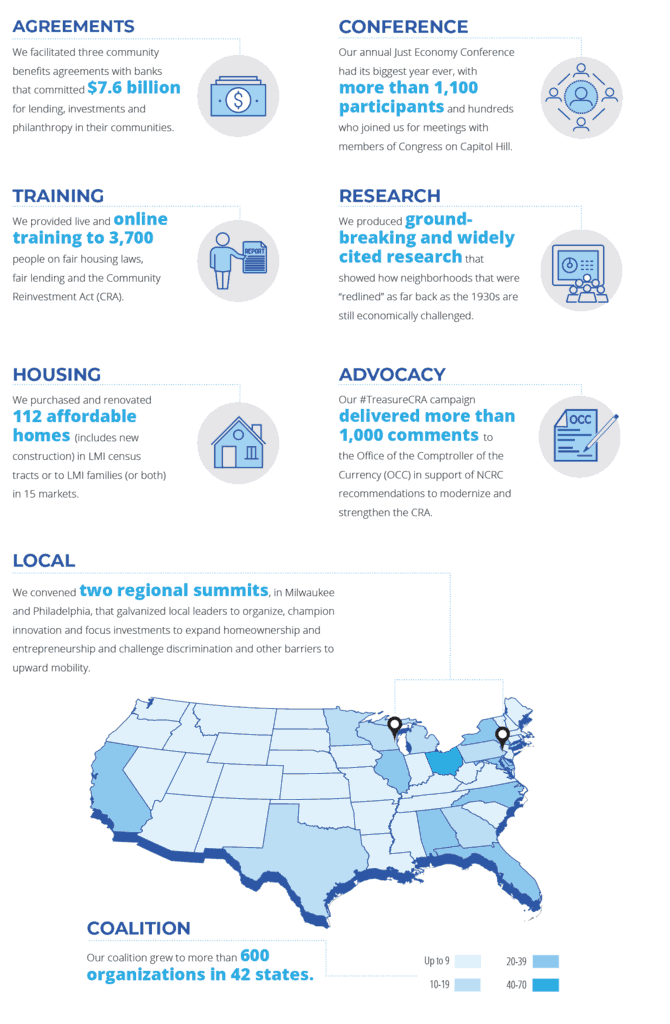 Financials
2018 Impact Report
2016 Annual Report
2015 Annual Report
Form 990 via Guidestar