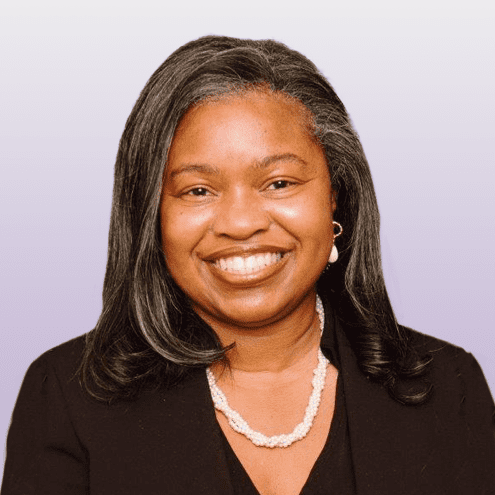 Carol Johnson
"I wake up every day motivated to make the world the absolute best place it can possibility be – and it all starts with me."
This is the philosophy by which Carol Johnson lives, and it is why her passion and commitment to civil rights, social justice, worker protections and economic development and empowerment for everyone – regardless of their race, national origin, gender, sexual orientation or socioeconomic status – makes her a tireless, passionate and effective leader and advocate for equal rights and economic advancement.
Director Johnson, who now serves the inaugural role as Austin's first Civil Rights Officer where she directs the City's inaugural Civil Rights Office, has spent her professional career advocating for housing protections, educational equality, fair wages, safe labor standards, workers' compensation for injured workers, police reform, and other important and necessary civil rights protections in housing, education, employment and public accommodations.
Director Johnson served as the first African American Deputy Prosecuting Attorney in Garland County, Arkansas, and went on to direct the State of Arkansas' first civil rights enforcement agency – the Arkansas Fair Housing Commission. Director Johnson became one of a few African American Civil Rights Directors for the State of Oregon where she was tasked with defending rights to equal opportunity in employment, housing, public accommodations, vocational career schools, whistleblower, FMLA, pay equity, health benefit protections, paid leave and other state protected laws across more than 30 protected classes and bases. Director Johnson also previously served as Chief of Intake, Programs and Compliance at the U.S. Department of Housing and Urban Development for Region X, serving Washington, Oregon, Idaho and Alaska.
Director Johnson notes the highlight of her civil rights career as ushering in civil rights enforcement in Arkansas where she served for 14 years as Executive Director of the Arkansas Fair Housing Commission (AFHC) – a new state agency and the only state civil rights enforcement agency charged with protecting the civil rights of Arkansans.  Director Johnson was named Executive Director of the Arkansas Fair Housing Commission in 2005, working in a bi-partisan capacity under the Executive leadership of the past three Arkansas Governors.
As Director of the sole civil rights enforcement agency in the State of Arkansas, Director Johnson had the distinction of creating a name for Arkansas as a leader in civil rights and fair housing enforcement by building a quasi-judicial, regulatory, enforcement agency which receives, investigates and otherwise resolves fair housing/fair lending complaints within the State of Arkansas' 75 counties and nearly 3 million residents.
Director Johnson is responsible for establishing the infrastructure necessary to enforce civil rights in Arkansas, and developed AFHC from its infancy stages and transitioned it from a newly formed capacity-building organization under HUD's Fair Housing Assistance Program to a fully functioning and highly recognized fair housing and fair lending civil rights enforcement agency nationwide.
In 2016, Director Johnson was appointed to the Arkansas Advisory Committee to the U.S. Commission on Civil Rights and was in 2018 appointed Chair of the Arkansas Advisory Committee. The U.S. Commission on Civil Rights was established as an independent, bipartisan, fact-finding federal agency, empowered to, "inform the development of national civil rights policy and enhance enforcement of federal civil rights laws by studying alleged deprivations of voting rights and alleged discrimination based on race, color, religion, sex, age, disability, or national origin, or in the administration of justice. The Commission plays a vital role in advancing civil rights through objective and comprehensive investigation, research, and analysis on issues of fundamental concern to the federal government and the public."
During her tenure with AFHC, Director Johnson resolved numerous civil rights, fair housing and fair lending cases and assisted many Arkansas municipalities in creating and/or amending existing ordinances to comply with civil rights requirements and worked with numerous housing authorities, housing developers, housing providers, lenders, real estate professionals, and others to lend critical technical support aimed at open housing access to protect both the public interest and the needs of the housing industry.
Director Johnson led Arkansas in creating fair housing/fair lending education programs and training opportunities for those in the housing community and regularly trains housing providers, architects, property owners, managers, developers, consultants, appraisers, attorneys, municipalities, non-profits organizations, home-seekers and others on applicable fair housing/fair lending laws and regulations. Director Johnson designed three 8-hour fair housing/fair lending training courses still being offered by the Commission: (1) Fair Housing: Management and Best Practices; (2) Fair Housing: Design and Construction; and (3) Fair Housing: Legal Updates. In addition to providing the subject matter expertise to develop these training classes, Director Johnson also provides professional training to students and adult learners and uses proven techniques designed to provide participants with an overall view of fair housing and fair lending key issues.
Director Johnson is committed to designing and promoting educational outreach opportunities for the general public as well as industry leaders. Since 2005, Director Johnson has hosted free annual Civil Rights Conferences for Fair Housing Month in April to commemorate and highlight advancements in civil rights and fair housing/fair lending statewide and nationally. In 2019, Director Johnson hosted her 14th national conference with more than 400 attendees and 73 local, state and nationally-recognized speakers.
Director Johnson's commitment to educating and empowering the next generation of civil rights warriors includes her passionate service as an Instructor and Subject Matter Expert for HUD's National Fair Housing Training Academy, a national fair housing training program that teaches fair housing professionals nationwide how to improve their skills in investigations and strategically enforcing fair housing laws in an effective, comprehensive and timely manner.
Director Johnson serves on numerous boards and committees and is a member of the National Bar Association (Arkansas and Oregon Chapters), serves on the Oregon Black Pioneers Board of Directors and as the Legislative Committee Chair for Portland Chapter of The Links, Inc., an international group of African American professional women.
Director Johnson has worked extensively in the areas of police reform and, as Chair of the Arkansas Advisory Committee to the U.S. Commission on Civil Rights, held a series of committee hearings in 2019 to review the issue of mass incarceration and its negative impact on communities of color.
Later in 2019, Oregon Governor Kate Brown appointed Director Johnson to the Public Safety Training and Standards Task Force created to address concerns of racial inequity in interactions between law enforcement and people of color.
Also, in 2019, Portland Mayor Ted Wheeler appointed Director Johnson to the Portland Police Citizen's Review Committee, an advisory body to the Portland Bureau's Independent Police Review (IPR) and Internal Affairs Committee.
Director Johnson was elected to the International Association of Official Human Rights Agencies (IAOHRA) Board of Directors in 2014, as a board member at-large and in 2017 and 2019 its 2nd Vice President. IAOHRA's mission is to provide opportunities and forums for the exchange of ideas and information among member agencies and human rights advocates. IAOHRA provides assistance in developing programs to eliminate illegal discrimination in employment, housing, education, public accommodations, public services and commercial transactions, including banking and lending practices.
A licensed attorney, Director Johnson has worked in various areas of administrative, civil and criminal law, and holds a Bachelor of Science degree from Texas Christian University in Fort Worth, Texas; a Master of Arts degree from the University of Arkansas at Little Rock and a Juris Doctor from the William H. Bowen School of Law.