This month, we celebrate the stories of women entrepreneurs in D.C. A rich entrepreneurial environment and small business assistance organizations contribute to their success, but the real story begins with the women who set out to solve problems.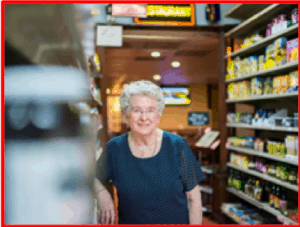 Cafe Mozart is D.C.'s oldest woman-owned restaurant, offering a host of entrees and desserts that include sausage platters, apple strudels and potato pancakes. Originally the Annapolis Delicatessen, this business was founded in 1932 by Mary Faiss, who later sold her business to a then 31-year-old customer, Hildegard Fehr, in 1964. In 1970, the name was changed to German Deli under the ownership of Hildegard and her husband Max Fehr. More changes resulted in a new space in 1981that is now called Cafe Mozart. Watch Hildegard Fehr's GrubHub interview.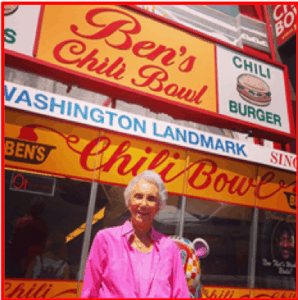 Virginia Ali founded Ben's Chili Bowl in August 1958 with her now late husband, Ben Ali. The couple used a $5,000 investment to begin renovating what would become their first restaurant location. Ali is an activist and community leader as much as Ben's Chili Bowl is a Washington, D.C., landmark and a celebration of the city's history and resilience. During Martin Luther King's 1963 March on Washington, Ben's was able to provide food for early participants in the march. Menu items include breakfast options, vegetarian & beef hot dogs, vegan chili, french fries and more.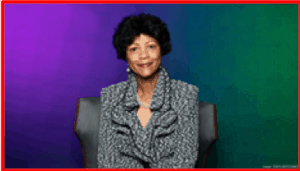 Cora Williams is the co-founder and current President of Ideal Electrical Supply Corporation, a wholesale electrical distributor that specializes in utility contracts and telecommunications networking products. Ideal Electrical Supply Corporation was founded in 1991 and is located in Washington, D.C., with satellite offices in Philadelphia and Chicago. Ideal Electrical Supply Corporation is a certified minority- and woman-owned small business.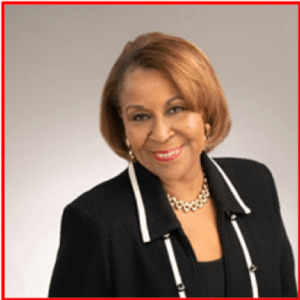 Carolyn Rudd is the President and CEO of CRP Incorporated, a professional consulting firm that was founded in 1988 and is certified as an economically-disadvantaged and woman-owned small business through District of Columbia's Certified Business Enterprise program. This program assists small businesses to better compete in D.C. government contracting opportunities. The team at CRP Incorporated specializes in providing technology based solutions, that include research & evaluation, consulting and program management.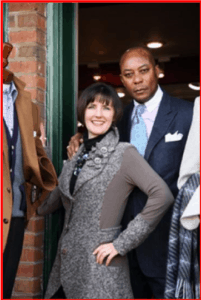 Everard's Clothing is a women's and men's clothing boutique that was established in 1993 as a custom order clothing company. The store location opened in 1999 in Georgetown, D.C., and is run by husband and wife duo Louis and Jennifer Everard.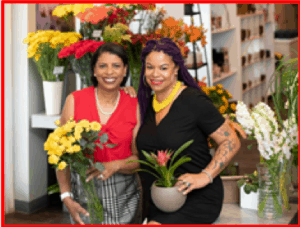 Stacie and Kristi Lee began their careers as florists when they were teenagers. They are granddaughters of the original owner of Lee's Flower Shop. Founded in 1945, Lee's Flower Shop is the oldest floral shop and the oldest Black-owned floral shop in Washington, D.C., located in the Historic U Street neighborhood. It is the go-to location for floral arrangements, sweets and gift baskets, offering online ordering and delivery services.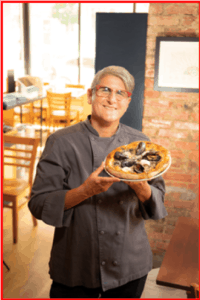 Ruth Gresser is the owner & chef of Pizzeria Paradiso, the first Neapolitan style pizza restaurant in Washington, D.C., founded in 1991. Her passion for cooking was embraced in her childhood, where she grew up cooking for her family and mother's catering company. Before moving to Washington, D.C., Gresser cooked professionally in American, Italian and French restaurants across the country. Pizzeria Paradisco's limited Women's History Month to-go menu features chef's favorite dishes from DMV area woman-owned restaurants. Gresser was the 2019 award winner of Think Local First DC's Trailblazer award. Read Ruth Gresser's full interview with natfluence.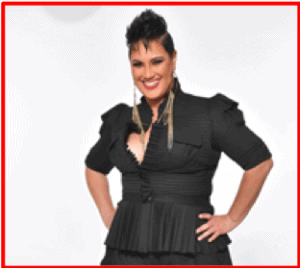 Christine Brooks-Cropper earned her Master's in Public Administration from the University of Delaware. She launched the Greater Washington Chamber of Fashion in 2007 that birthed the DC Fashion Foundation in 2009, where she is currently the CEO and President. Brooks-Cropper was the driving force behind the formation of the Commission on Fashion Arts and Events in D.C. Her work with the U.S. Small Business Administration and Macy's Holding, Inc. created D.C.'s first fashion incubator program to accelerate professional growth and business development for budding entrepreneurs in the fashion industry both locally and internationally.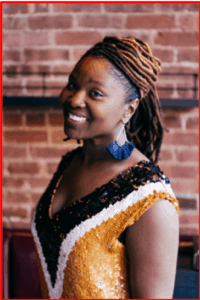 Anika Hobbs graduated from Syracuse University with a degree in Environmental Design. While aspiring to be an architect, her need for employment led her to join a leading fashion retailer where she gained more than a decade of experience. In 2011, Hobbs founded her own business Nubian Hueman, where she sources fashion and art from creators representing the global diaspora. Her retail locations serve as a connection to independent artists, home, beauty, wellness and apparel products.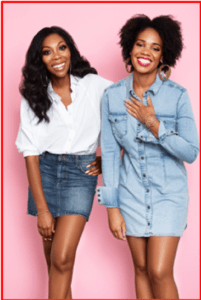 Kimberly and Amaya Smith are the co-founders of the Brown Beauty Cooperative, a place for women of color to network and explore products made for them. Amaya Smith is also the founder of  The Product Junkie. Housed in the Brown Beauty Cooperative, The Product Junkie is a curation of natural curly hair products sourced locally and internationally from women of color. Kimberly Smith is also the founder of Marjani Beauty, a premier beauty and cosmetic retailer for women also housed in the Brown Beauty Co-op.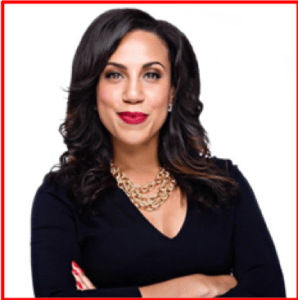 Natalie Madeira Cofield is the new Assistant Administrator for the U.S Small Business Administration's Office of Women's Business Ownership. She is also the founder and previous CEO of Walker's Legacy, an online platform dedicated to women entrepreneurs that provides educational programming and a community of multicultural entrepreneurs. Cofield was inspired by Madam CJ Walker's resiliency to overcome her present day obstacles when she founded Walker's Legacy in 2010. Cofield has received many accolades, including being named as an influential rising star by the Washington Business Journal.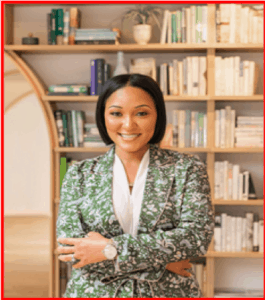 Tayiana Reed earned her Doctor of Pharmacy from Xavier University of Louisiana in 2005. In 2009, she completed her Master of Science in Pharmaceutical Outcomes and Policy from the University of Florida. Since 2012, she has worked for the D.C. Department of Health and currently serves as the Chief of the DC AIDS Drug Assistance Program. Reed is the CEO and founder of The Wellness Apothecary, a wellness brand specializing in non toxic and clean ingredients, her products range from toothpaste to body butter and can be purchased on her website and at shops across California, New York and Chicago.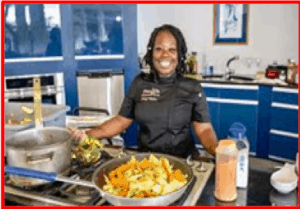 Pinkey Reddick is a D.C. native that had over 12 years experience working in a national restaurant chain, when she decided to open up her own business, PinkE's Eatery. Born out of the desire to create healthier food options in her community, Pinke's Eatery provides catering and delivery, and offers a variety of cuisines for brunch, lunch and dinner. Her partnership with the Coalition for Non Profit Housing and Economic Development and the World Central Kitchen provided over 20,000 meals to front-line workers during the height of the coronavirus pandemic.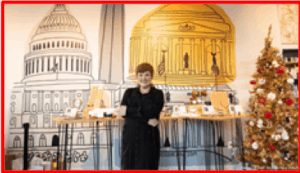 Stacey Price is a tried and true advocate of localism, connecting her community to shift their dollars to support small businesses. She is the founder and chief localist of Shop Made in DC, a local retail initiative created in 2017 that supports over 200 D.C. makers and sells over 5,000 locally created products. Price is also the founder of People Make Place where her partnership with the Latino Economic Development Corporation makes accessible a Retail Ready Loan to help D.C. based businesses thrive.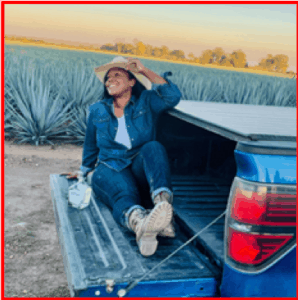 Tiffany Capri Hainesworth is a D.C. native and Maryland resident who pursued her passion working in the criminal justice field for over two decades. In her first entrepreneurial venture, T-Capri Gourmet Treats, she specialized in creating handcrafted cocktail gummies, gourmet bread pudding and butter cakes. With that venture on hold and creating a solution for a better infusion, she now owns her own tequila brand, T-Capri Tequila, sourced and crafted in Guadalajara, Mexico. T-Capri Tequila is currently being sold across stores in Maryland and D.C.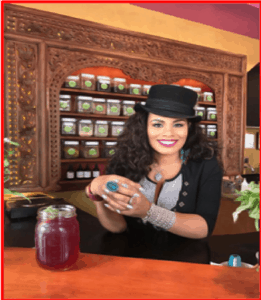 Sunyatta Amen was raised in her father's health food shops in Harlem, New York. She is a 5th generation master herbalist whose passion is reconnecting people to use food and drink as natural healing. Amen is a health food consultant and a healthy lifestyle expert. She is the TEO and owner of Calabash Tea & Tonic, an urban oasis that offers a large variety of sourced teas and health foods with three locations throughout Washington D.C.  In 2018, she was the recipient of the Think Local First DC Green Thumb Award.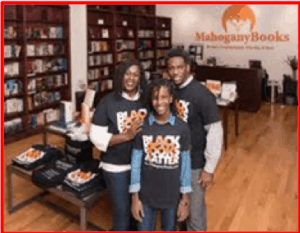 Ramunda and Derrick Young had over a decade of combined experience working in the bookstore industry. This wife and husband duo opened Mahogany Books in 2007 as an online bookstore specializing in print written about the African Diaspora and named after their daughter. In 2017, Ramunda and Derrick opened their storefront in the Anacostia Arts Center, a coworking space created for small businesses and artists. They have connected readers and writers through more than 600 book events and donated more than 1,000 books through their give-back program.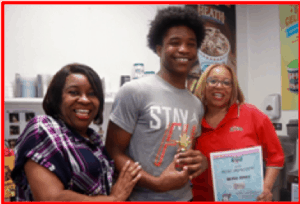 Charnita Walker was introduced to water ice and Rita's franchise while in college in Philadelphia. She loved it so much she wanted to bring it home to D.C. Already having an entrepreneurial mindset and after introducing the idea to her sister, Angela Brock, they began the process of developing a business plan and opened Rita's on Rhode Island Ave NE in 2005. Prior to opening this location, the sisters first franchise application was turned down. Now, the location is a summertime community stable offering a variety of flavored gelatos, milkshakes and more. Listen to their interview on RIA-NE Main Street Radio.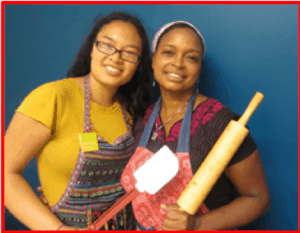 Josephine Chu and Yolanda Hawthorne are the co-founders of Zenful Bites, an eco-catering service focused on environmental equity and offering healthy cooking demonstrations and educational workshops. Zenful Bites was founded as an employee cooperative in 2010 with the mission to build a more just food economy. Locally sourcing ingredients and produce from farmers, menu items include vegan and traditional wraps, entrees, chia pudding and their infamous kale salad.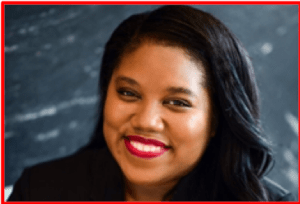 Mary Blackford founded and started Market 7, a series of pop-up markets supporting Black creatives and farmers across Ward 7 in Washington D.C. Inspired by local markets on a trip to Ghana, Blackford returned home and in 2017 began organizing to fill a need in her local community. Now, Benning Market, the new project of Market 7 will be opening its brick & mortar store and is currently accepting applications for rental space and vendors. Mary was the 2020 Grand Prize winner for the Pine-Sol and Essence Build Your Legacy Contest.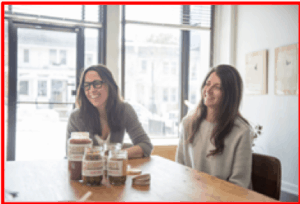 Sarah Gordon and Sheila Fain are partners and co-founders of Gordy's Pickle Jar, where they specialize in all things pickled. Menu items include sweet pepper relish, hot chili spears and fine brine. In 2011, they won second place at the International Pickle Festival and later began selling their product at Whole Foods DC. Gordy's Pickle Jar fermented products can be found online and at the FRESHFARM market in Dupont Circle.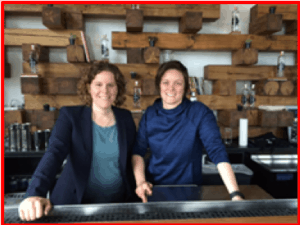 Republic Restoratives is Washington D.C.'s first women-owned distillery and cocktail bar, offering local and national delivery. Pia Carusone and Rachel Gardner, both professionals by day and long-time friends, decided to turn their passion into a profession and business venture. Seeking alternative financing, the pair started research into crowdfunding and started a campaign on Indiegogo, where within 30 days they nearly doubled their original goal of $75,000.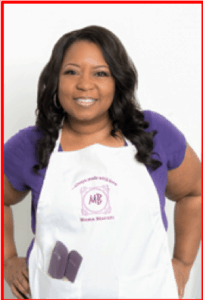 Lesley Riley founded America's first gourmet biscuit company in May 2015, and has created over 50 sweet and savory signature biscuit recipes, cinnamon vanilla cream, chicken pot pie and vegan sweet potato to name a few. She started the "feeding faith" initiative where her business donates hundreds of biscuits to organizations in need every month. Mama's Biscuits is currently planning for a 2021 roll-out and orders can be placed online soon.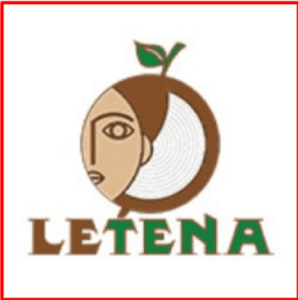 Yamrot Ezineh is originally from Addis Ababa, Ethiopia. She moved to Washington, D.C., in 2008. Ezineh grew up cooking in her family's restaurant and would later become a chemical engineer. She is the owner and founder of the Ethopian family restaurant, LeTena, located in the heart of Columbia Heights, and founded in 2016. Menu items include banoffee pie, veggie samplers, meat stews and more.
Monti Taylor is a resource coordinator for the DC Women's Business Center.