This week, 200 community economic development advocates gathered in Denver to explore challenges, data, solutions and opportunities to create a just economy across Colorado, Arizona, New Mexico, Utah and Indian Country.
Summit attendees heard a rich mixture of personal reflections and practical insights from regional leaders like Denver Mayor Mike Johnston, Denver International Airport CEO Phillip A. Washington and many others.
"Transportation is the key to access to education, access to medical care, access to employment, and it becomes very very important that fairness is injected into transportation policy," Washington said in a conversation with NCRC President and CEO Jesse Van Tol.
Washington went on to reflect on his upbringing in Chicago, where he became aware of how the frequency of bus schedules impacted his family's quality of life, and how that shaped his career in transportation.
"I grew up on the south side of Chicago. I wasn't really thinking about planes. I was thinking about transportation not so much as a career, but because my mother was working 14 hours a day. So I was thinking about the buses, and timetables, and the frequency of that bus my mother needed, and how far she had to walk to get to it," he said.
Mayor Johnston focused on efforts to assist the unhoused.
"41 people have died outside, unsheltered, in just the past 60 days. And I have to explain that to my daughter, how can that happen in this modern city …. That's where we are. And that's not where we're going. We've got to get people into permanent supportive housing, and we've got to dramatically increase the supply of affordable housing across the city," he said.
Colorado Public Radio Climate and Environment Reporter & Host Michael Elizabeth Sakas moderated a panel conversation, "The Future of the Colorado River: Its impact on community development & housing," with Central Arizona Water Conservation District board member Ylenia Aguilar, Ohkay Owingeh Jeff Atencio and Colorado Water Conservation Board Director Lauren Ris.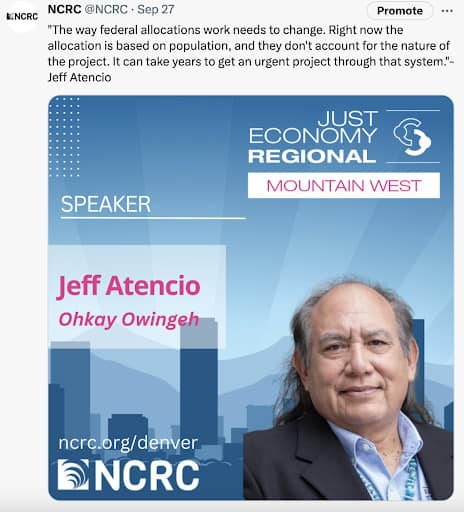 Breakout sessions focused on the affordable housing crisis, the power of community land trusts, environmental justice, CRA, community development on tribal lands, and more.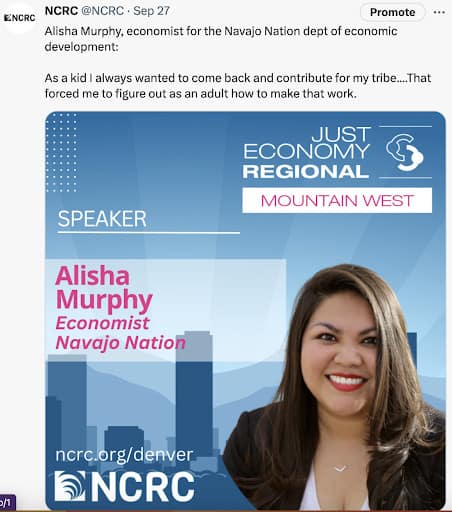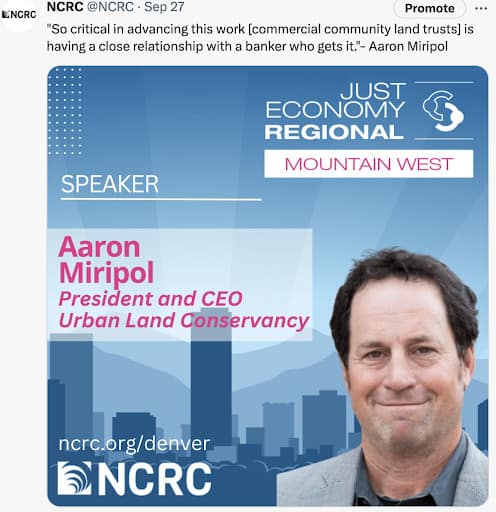 The summit concluded with a tour of the Mosaic Community Campus, a 22-acre mixed-use community land trust project developed the Urban Land Conservancy, an NCRC member organization.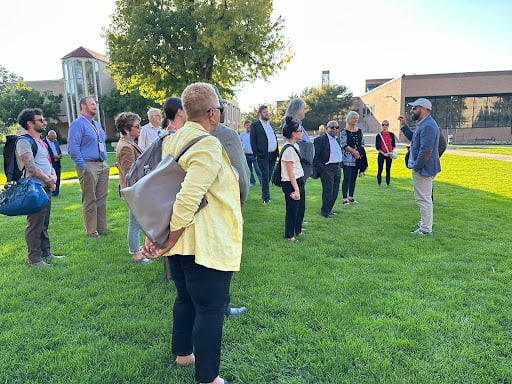 A big thank you to our co-conveners and sponsors. We could not have done this without you.
Partners:
Sponsors:
Huntington Bank
US Bank
BMO
Colorado Housing and Finance Authority.