BB&T Corporation (NYSE: BBT), SunTrust Banks, Inc. (NYSE:STI) and the National Community Reinvestment Coalition (NCRC) today announced the creation of a three-year, $60 billion community benefits plan for the region served by Truist Financial Corporation, the combined company to be created through the proposed merger of the two banks.
The plan, based upon discussions between the banks, NCRC and its community-based members, will increase financial resources for low- and moderate-income (LMI) communities across the eastern United States.
The plan's specific goals include:
$31 billion for home purchase mortgage loans to LMI borrowers, LMI geographies, minority borrowers and/or majority-minority geographies
$7.8 billion for lending to small businesses, to support the growth of businesses with revenues less than $1 million.
$17.2 billion in Community Development Lending (CDL) supporting affordable housing development, small business growth and lending to nonprofits that support the LMI community
$3.6 billion in Community Reinvestment Act (CRA) Qualified Investments and Philanthropy, of which $120 million will be designated for CRA-qualified philanthropic giving
The plan was developed through direct participation in six input and listening sessions held in urban and rural communities throughout the bank service areas, as well as input from participants in the regulator-hosted public meetings. It focuses on affordable housing and small business development, economic stability and mobility, workforce development and public safety.
"Many bank mergers proceed without any detail on how communities will benefit from the combination," said NCRC CEO Jesse Van Tol. "However, BB&T and SunTrust showed tremendous leadership by participating in a collaborative process with NCRC and our community-based member organizations to establish the largest-to-date community benefits plan. This plan spells out a substantive and detailed commitment of loans, investments and services to LMI people and neighborhoods across 17 states and the District of Columbia."
Under the plan, the banks also committed to opening at least 15 new branches in LMI and/or minority communities and to work with a community advisory board made up of representatives from community organizations that work within LMI neighborhoods, to provide updates on the progress of the plan. Truist will work with NCRC to mutually identify proposed members of the Community Advisory Board.
"This plan will provide a much-needed influx of investment into critical programs that improve affordable housing, mortgage lending, small business development and economic development projects to LMI people and communities across most of the eastern half of the country," said NCRC President and Founder John Taylor. "We very much appreciate the strong collaboration demonstrated by the executive leadership of BB&T and SunTrust banks, as well as the critical role our members played in our discussions with the banks."
In February 2019, BB&T and SunTrust announced a proposed merger that would result in the sixth-largest U.S. commercial bank based on assets and deposits. The merger is expected to close in the third or fourth quarter of 2019, subject to customary closing conditions, including regulatory approvals and approval of both companies' shareholders.
Since 2016, NCRC has negotiated community benefits plans with seven banking groups for lending, investments and philanthropy worth a combined $150 billion in the communities served by the banks.
"The Community Benefits Plan exemplifies what Truist will stand for and how it will support local communities in the years to come," said BB&T Chairman and Chief Executive Officer Kelly S. King. "Both BB&T and SunTrust have a long legacy of serving the community, but together as Truist we will be uniquely positioned to invest in ways we never could on our own. We are committed to building growing, diverse and vibrant neighborhoods in the regions where we work and live."
"Truist is creating the premier financial institution to serve the diverse needs of our clients and communities, and this plan is an initial stake in the ground as to our values and commitments. Our legacy companies share a strong history of being more than members of the communities we serve, but also partners in developing affordable housing, promoting financial literacy, and promoting access to critical programs and services. Today's announcement is a reflection of that history and a look ahead at what we can collectively achieve as one combined institution," said SunTrust Chairman and Chief Executive Officer William H. Rogers, Jr.
NCRC Member Quotes:
"We are very excited to be announcing this significant, new community benefits plan," said NCRC Board Chair and Executive Director of Birmingham Business Resource Center Robert Dickerson, Jr. "Not only will my community benefit from this plan, but countless others will too, all thanks to the willingness of bank executives and community groups to do what we do best and negotiate for all of our mutual benefits, putting our people and communities first."
"BB&T has been a leader in community development for 30 years and SunTrust has made significant progress in community development tax credit investment. The NCRC CBA highlights the capacity of the combined banks to address the community investment and development needs of low-wealth communities, while also developing the capacity of community groups to implement these investments," said National Trust for Historic Preservation Trustee Emeritus Irvin Henderson.  "It is a model of history, commitment and innovation leading to relationships that serve the underserved and builds community. I applaud the leadership of the banks and the community."
"Given the historical redlining and hypersegregation of communities of color in Baltimore City, the focus on racial equity in this Community Benefits Plan with Truist is an important step forward," said Maryland Consumer Rights Coalition Executive Director Marceline White. "The Maryland Consumer Rights Coalition looks forward to working with Truist to expand homeownership for black borrowers and entrepreneurs, and establish bank branches in current bank deserts."
"This plan is a win for the bank, and for the community, especially the growing Latino community," said Executive Director of Ceiba in Philadelphia Will Gonzalez. "We look forward to working with Truist on maximizing the impact of this plan."
"First, I want to thank Jesse Van Tol, Kelly King and Bill Rogers for working with the community to create this plan. It is forward-looking and inclusive in its focus and commitments to the diverse communities within the 17 states impacted by this merger," said S J Adams Consulting CEO Stella Adams. "Truist is committing significant resources to meet community needs, through lending, investments and philanthropy to LMI, majority/minority and rural communities. Also, I want to thank Truist for its forward-looking commitment to ensure continued access to financial services and the development resiliency plans for its customers and staff members impacted by natural disasters such as Hurricane Barry."
"BB&T and SunTrust listened and responded affirmatively to the concerns and requests of community leaders," Reinvestment Partners Executive Director Peter Skillern said. "The plan demonstrates how one plus one equals more than two with commitments for higher levels of investments, loans and services for low-income communities."
"BB&T's renewed commitment to CRA and its increased investment goals are great first steps in making sure that the merger with SunTrust will benefit LMI and traditionally underserved people in New Jersey and across the banks' expanded footprint," said New Jersey Citizen Action Executive Director Phyllis Salowe-Kaye. "New Jersey Citizen Action is eager to continue the good relationship we have established with BB&T since it came New Jersey, and we look forward to working with the new bank, and with NCRC and our coalition partners to ensure that the goals outlined in this plan are achieved and, we hope, surpassed."
"This community benefits plan is a significant victory for communities of color. The investment of billions of dollars is an important step to stabilizing neighborhoods devastated by the recession. I applaud NCRC for its efforts to bring together community groups and banks around a common agenda of prosperity for all," said Stephen Glaude, executive director of the Coalition for Nonprofit Housing and Economic Development in Washington, D.C.
"The Community Reinvestment Alliance of South Florida is extremely proud to have the opportunity to participate in the negotiations with NCRC for this landmark plan," Community Reinvestment Alliance of South Florida Executive Director Cornell Crews Jr. said. "We look forward to partnering with Truist in enabling our communities to thrive in every way possible."
The Community Bank Plan represents true opportunity and enormous potential for our communities. We are especially grateful to NCRC who was the catalyst and facilitator for the collaboration and partnership formed between our communities and TRUIST," said Urban League of Hampton Roads President and CEO Gilbert Bland. "TRUIST has pledged very significant financial resources and developed innovative programs which will accelerate community development; support existing and new business enterprises; provide increased philanthropic grants and dramatically grow homeownership. These initiatives are the foundation of healthy neighborhoods and will be a valuable contribution to the growth of our underserved communities."
"This plan is the result of a historic, momentous process to understand, address and prioritize the needs of LMI communities and people. HomeFree-USA is honored to have participated in the development of this plan," said HomeFree-USA President Marcia Griffin.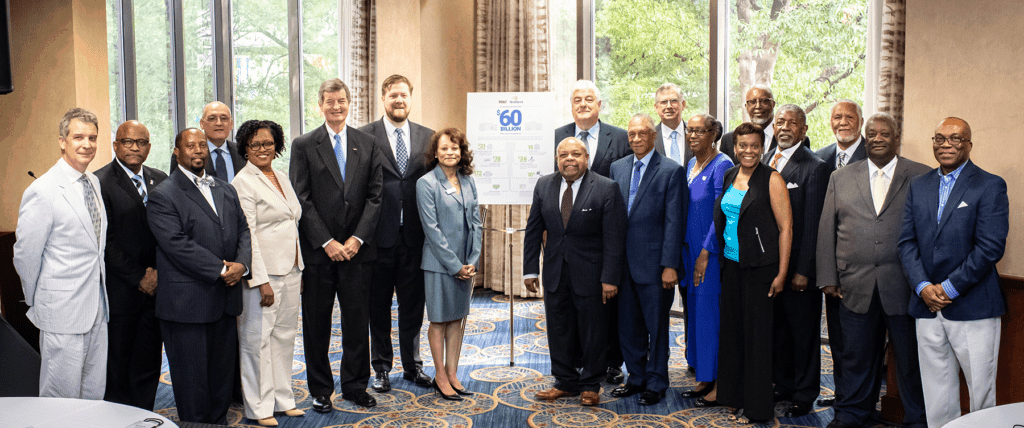 Organizations supporting the Community Benefits Plan:
Alabama
Birmingham Business Resource Center
BENS Connects Community Development Corporation
Center for Fair Housing
NAACP
Titusville Development Corp
Urban Impact, Inc.
Fair Housing Center of Northern Alabama
National Business League of Alabama
Building Alabama Reinvestment
District of Columbia
Manna Inc.
Coalition for Non Profit Housing and Economic Development
Douglass Community Land Trust
Washington Area Community Investment Fund, Inc. (Wacif)
Florida
Bright Community Trust
Community Enterprise Investments, Inc.
Community Reinvestment Alliance of South Florida
Florida Alliance of Community Development Corporations, Inc.
Goldenrule Housing & Community Development Corporation Inc
Neighborhood Home Solutions
Operation New Hope
Real Estate Education And Community Housing Inc (R.E.A.C.H.)
REVA Development Corporation
Trinity Empowerment Consortium, Inc.
Urban League of Broward County
Affordable Homeownership Foundation, Inc.
Catalyst Miami
Community Partners of South Florida
Consolidated Credit Solutions, Inc.
Corporation to Develop Communities of Tampa, Inc.
SW Florida Impact Partners
We Help Communities "2" Develop Corporation
Liberty City Trust
Georgia
Atlanta Micro Fund
Georgia Advancing Communities Together, Inc.
National Housing Counseling Agency
The University Community Development Corp.
LiftFund
The D&E Group
Kentucky
River City Housing, Inc.
The Housing Partnership, Inc.
Community Foundation of Louisville
Comprehensive Valuation Services, LLC
LHOME
Louisville Affordable Housing Trust Fund
Louisville Urban League
Maryland
African American Chamber of Commerce of Montgomery County
Baltimore Community Lending
Primary Care Coalition
HomeFree-USA
Housing Initiative Partnership, Inc.
Maryland Consumer Rights Coalition
People for Change Coalition
Housing Options & Planning Enterprises, Inc.
New Jersey
New Jersey Citizen Action
New Jersey NAACP
North Carolina
Centre for Homeownership & Economic Development Corporation
Community Link
Durham Committee on the Affairs of Black People
FVW,Opp.INC.
National Trust for Historic Preservation
North Carolina Institute of Minority Economic Development
North Carolina Housing Coalition
Prosperity Unlimited, Inc.
Reinvestment Partners
S J Adams Consulting
WyleiaVision LLC
New York
The Financial Clinic
Pennsylvania
Ceiba
Community Action Committee of the Lehigh Valley
Community Action Partnership
Community First Fund
Fair Housing Rights Center in Southeastern Pennsylvania
Greater Philadelphia Hispanic Chamber of Commerce
I-Lead Charter School
Liberty Resources, Inc.
Philadelphia City Council
PIDC
Southwest CDC
United Communites Southeast Philadelphia
Women's Way
Philadelphia Community Stakeholders
Resurrected Community Development Corporation
Tennessee
Chattanooga Neighborhood Enterprise
Statewide Organizing for Community eMpowerment (SOCM)
United Housing, Inc.
BLDG Memphis
Chattanooga Organized for Action
green|spaces
Memphis Urban League
Virginia
Better Housing Coalition
Housing Opportunities Made Equal of Virginia
Maggie Walker Community Land Trust
Mount Global Fellowship of churches
Neighborhood Housing Services of Richmond, Inc.
Norfolk State University
Pathways-VA, Inc.
United Way of South Hampton Roads
Virginia State University
Church Hill Activities & Tutoring (CHAT)
Eastern Virginia Medical School
Hampton Roads Workforce Council
Peter Paul Development Center
Southside Community Development & Housing Corporation
TAP
Urban League of Hampton Roads
Virginia Community Voice
Northern Virginia Urban League
About NCRC
NCRC and its grassroots member organizations create opportunities for people to build wealth. We work with community leaders, policymakers and financial institutions to champion fairness in banking, housing and business. NCRC was formed in 1990 by national, regional and local organizations to increase the flow of private capital into traditionally underserved communities. NCRC has grown into an association of more than 600 community-based organizations in 42 states that promote access to basic banking services, affordable housing, entrepreneurship, job creation and vibrant communities for America's working families. Learn more at: www.ncrc.org
For media inquiries, please contact:
Alyssa Wiltse-Ahmad
Media Manager, NCRC
awiltseahmad@ncrc.org
202-393-8309
####
Summary of the Community Benefits Plan between the National Community Reinvestment Coalition and
Truist

Bank

Truist will lend or invest $60 billion to people of color, communities of color, low- and moderate-income (LMI) borrowers and in LMI communities over a three-year period from 2020 through 2022.
Mortgage Lending to the Underserved

Community Benefits Commitment:        $31 billion over 3 years
Truist commits to specific home purchase lending goals for people of color, communities of color, LMI borrowers and LMI communities that represent year-over-year increases over the amount. Truist's home purchase mortgage lending commitment will translate into approximately 17,864 new homes owned by people of color and 34,555 new homes owned by LMI borrowers.
Small Business Lending
Community Benefits Commitment:         $7.8 billion over 3 years
Truist will lend $7.8 billion to businesses making less than a million a year. Truist will also devote grants to small business assistance organizations, with particular focus on racial equity and those nonprofit organizations with people of color in board and management leadership. Truist will also expand support for Community Development Financial Institutions (CDFIs) by establishing referral relationships for business loan applicants that currently do not meet Truist's underwriting standards. Referrals to CDFIs will be designed to assist business loan applicants with technical assistance as well as the potential for direct access to capital through these CDFIs.
Community Development Lending and Investment (CDLI)
Community Benefits Commitment:            $20.68 billion over 3 years
Truist will devote $17.2 billion to community development loans and $3.48 billion on community development investments. Truist will prioritize expanding CD lending that supports affordable housing development, small business growth and the provision of community lending facilities that sustain economic development projects which create and/ or retain jobs for LMI individuals and neighborhoods.
Philanthropy
Community Benefits Commitment:            $120 million over 3 years
Truist will disseminate $120 million in CRA qualified grants over the next three years. Philanthropic giving will include support for organizations that address key issues facing communities of color – economic sustainability, public safety, education and youth workforce development – with a focus on organizations having persons of color in board and management leadership. Truist will also provide dedicated funding assistance for historically black colleges and universities and Hispanic-serving institutions with leadership development, community development projects, student workforce development and scholarships.
New

Branches
Truist will seek to open at least 15 new branches across its combined footprint in LMI neighborhoods and/or neighborhoods of color during 2020 through 2022. The combined institution will work with NCRC and its members to seek input on recommendations for targeted geographies. Truist will also seek to maintain and avoid closure of branches within communities designated by the U.S. Census Bureau with fewer than 2,500 people and housing, population and territory not included within an urban area.
Capacity Building Initiative
Truist will create a Signature Capacity Building program. This program will include specific focus areas on racial equity and economic mobility, and will include working with nonprofit organizations with people of color in board and management leadership.
Rural Strategy
Truist will design a lending, investment and service strategy to address issues impacting rural markets.
Supplier Diversity
Truist will strive to attain a spend rate of 10% of its total annual third-party vendor spending on qualifying diverse suppliers, inclusive of women, minority and veteran-owned suppliers, by the end of the plan. Additionally, the bank will maintain a senior manager with the title of "Supplier Diversity Officer" whose sole job duties will be dedicated to improving opportunities for diverse suppliers.   
Plan

Governance
Truist will form a Community Advisory Board that will review and discuss progress against the plan's goals and objectives. Truist will work with NCRC to mutually identify proposed members of the Community Advisory Board. Truist will also provide a public annual update.