Under the proposed Office of the Comptroller of the Currency (OCC) and Federal Deposit Insurance Corporation's (FDIC) regulatory changes to the Community Reinvestment Act (CRA), financing to improve stadiums located in low- and moderate-income (LMI) areas that are designated Opportunity Zones (OZ) would be credited to a bank, improving their CRA ratings.
NCRC examined the location of 37 recently constructed or proposed stadiums across the country. Nearly half would fully satisfy the proposed criteria. A further 12 are either in an LMI area or designated OZ, and it is plausible to expect that the criteria could be expanded to include these as well. Professional sports stadiums are not the only ones that might benefit from this new proposal. Improvements to hundreds of college stadiums, downtown sports arenas and other facilities that meet the loose definition of "athletic stadium" could be considered "community development" projects if they are located in a qualified neighborhood. Due to the difficulty of being able to accurately determine what would quality, the amount of these opportunities could multiply significantly. Because of the scope and expense of stadium construction, this could become an easy way for banks to meet all of their CRA obligations to a community, by financing low-risk and profitable stadium construction and expansion.
Red highlighting indicates the location would fully qualify under the proposed rulemaking, while purple highlighting could be included in a more expansive interpretation of the rule.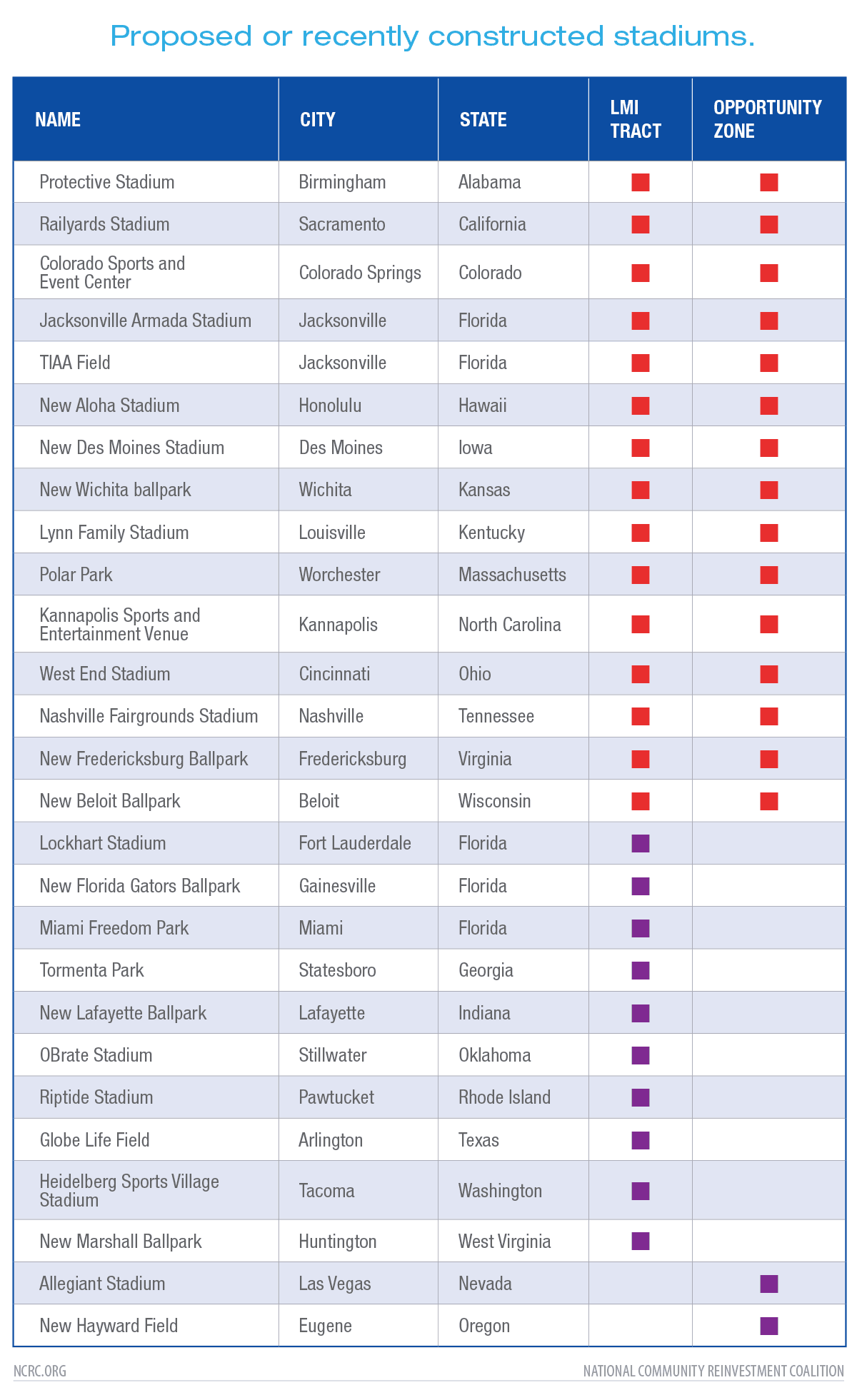 (Source: Stadiums identified through Wikipedia https://en.wikipedia.org/wiki/List_of_future_stadiums with site locations verified through local news sources, or public announcements. The locations were then geolocated with data from the FFIEC on CRA eligible census tracts and the IRS for designated Opportunity Zones.)