NCRC's 2008 Conference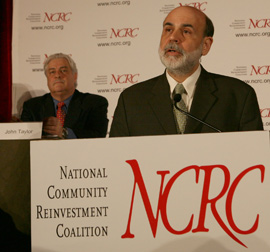 From March 12-15 2008 in Washington, over 500 people joined NCRC at our annual conference: Creating the Vision for a Fair Economy: Investing in People and Communities" . Community leaders, lawmakers, regulators, civil rights leaders, bankers, the media, housing groups, faith-based organizations, business development organizations and representatives from the "environmental justice" community – green builders, trainers, workforce developers and others – came together over four event filled days on Capitol Hill.

NCRC's 2008 conference featured workshops trainings and plenary sessions on a variety of topics, plus a special all-day discussion on foreclosures with Federal Reserve Chair Ben Bernanke as the keynote speaker for the day.


Look here on NCRC.org in the days ahead for hundreds of conference photographs, video, summaries and resources for building on the energy created by our conference. Unprecedented media attention in the conference has led to widespread interest in NCRC's innovative solution for ending the foreclosure crisis – the Homeowners Emergency Loan Program (HELP Now) , and NCRC will be updating you on the progress of HELP Now as it moves forward.

To those of you who joined us at this year's event – thank you! For those who would like to join us next year, continue to watch this space for information in the months ahead. For information on becoming an NCRC member, click here.