NCRC's Housing Counseling Network Offers Emergency Financial Assistance to Homeowners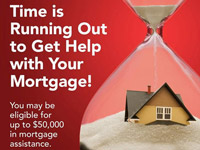 The U.S. Department of Housing and Urban Development and NeighborWorks America recently announced the recipients of Emergency Homeowners' Loan Program (EHLP) grant funding. NCRC and its Housing Counseling Network (HCN) affiliates will receive funding to provide support to over 1400 households in approximately 13 states.
HUD anticipates a high amount of demand for the Emergency Homeowners' Loan Program (EHLP). In order to ensure that program funds are made available in a fair and impartial manner, homeowners interested in applying must first complete a Pre-Applicant Screening Worksheet. If there are more potentially eligible homeowners than there are funds available to assist them, these worksheets will be entered into a randomized selection process. EHLP counseling agencies will evaluate completed screening worksheets to make an initial, informal pre-determination of household eligibility. Homeowners whose completed worksheets meet this standard will be randomly selected, and these homeowners will be invited to apply for an EHLP loan in the order they are selected.
Unfortunately, due to the limited amount of resources available through the EHLP, some qualified homeowners will not be selected to complete an application. Furthermore, some homeowners will complete an application but not will not ultimately be approved to receive assistance if their applications are incomplete or if they do not otherwise meet all of the program's eligibility criteria.
Homeowners who are randomly selected will be called by their local EHLP housing counseling agency to schedule an appointment to complete the EHLP application packet. NOTE: There is no charge for this service. During the appointment, homeowners will be required to submit the specified documentation to support eligibility. It is very important for all homeowners to be familiar with all of the EHLP documentation requirements and have all specified documents prepared to submit at the time of their application appointment. Click on this link to review the document checklist.
How to Apply for EHLP
The Pre-Applicant eligibility screening period will run from between June 20, 2011 through July 22, 2011. The homeowner application period will not begin until late July 2011. The Pre-Applicant screening procedures are described below, and include a link to a downloadable and printable screening worksheet. Click here for the contact information of the EHLP housing counseling agency serving your community, county or state.
Step 1. Complete the Screening Documents: Worksheet and Third-Party Authorization
Step 2. Submit both documents to an Housing Counseling Network affiliate or an EHLP Agency
Note: Pre-applications are being accepted Monday, June 20, through Friday, July 22
States Participating in EHLP
EHLP will be available in the following states:
Alaska, Arkansas, Colorado, Hawaii, Iowa, Kansas, Louisiana, Maine, Massachusetts, Minnesota, Missouri, Montana, Nebraska, New Hampshire, New Mexico, New York, North Dakota, Oklahoma, South Dakota, Texas, Utah, Vermont, Virginia, Washington, West Virginia, Wisconsin, and Wyoming. EHLP is also offered in Puerto Rico.
Substantially similar EHLP states:
On April 1, 2011, HUD identified five states operating their own respective mortgage asssistance programs that met HUD's criteria as "substantially similar" to the EHLP. These include Connecticut, Delaware, Idaho, Maryland, and Pennsylvania. Each of these states have received direct allocations of EHLP funds to directly administer and assist homeowners in need. For information about how to apply for EHLP assistance in these substantially similar states, please contact the NCRC Housing Counseling Network at 1-800-475-NCRC (6272).
Connecticut, Delaware, Idaho, Maryland, Pennsylvania
States that are not participating in EHLP:
Those states that are not identified above (non-EHLP states) receive direct assistance through the U.S. Treasury's Innovation Fund for Hardest Hit Housing Market Program. The list of Hardest Hit Fund states is provided below. If you live in one of these states, click on that state's name to find out more about Hardest Hit Housing Market Program that is available where you live.
Alabama, Arizona, California, Florida, Georgia, Illinois, Indiana, Kentucky, Michigan, Mississippi, Nevada, New Jersey, North Carolina, Ohio, Oregon, Rhode Island, South Carolina, Tennessee, Washington DC
We Can Help!
HCN can help. Please contact NCRC's Housing Counseling Network today at 202-383-7702.
Call today to learn if you are eligible.