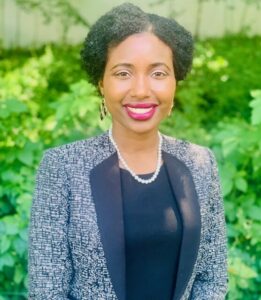 Adessa Barker, a well-being practitioner and the host of the popular podcast, Attitude Changes Everything, spoke about the mental health of women entrepreneurs. Barker shared her insights on some common misconceptions associated with mental health and solutions to improve mental well-being. 
Barker received her wellness certification from the Mayo Clinic. When she is not supporting individuals and organizations to create a culture of wellness, she enjoys reading and being outdoors and is also an attorney and member of the D.C. and Maryland Bar Associations.  
How do you think the current pandemic has impacted the mental health of entrepreneurs? 
This current pandemic has impacted every shred of our daily lives. This pandemic ride has taken our emotions on a wild roller-coaster that we've long wanted to get off. Our general outlets and avenues for relief were closed down. We were forced to stay at home which made it easier for us to hide our struggles. The pandemic has impacted the way we think, feel and act. We have seen friends, loved ones and acquaintances fall victim to COVID- 19. Small business owners have also struggled to adapt to the new demands brought on by the pandemic. Many businesses lost money and are still recovering; for those who have children at home that burden was further taxed. As women, we take on a lot, all of which has left us feeling mentally beaten down, our levels of stress, anxiety and depression are at an all-time high. The pandemic has impacted the way we see ourselves and our world. 
What do you want women entrepreneurs to know about personal well-being?  
We are masters at fixing the external to the detriment of the internal. As women entrepreneurs, we juggle many balls. One of the balls that tend to drop is our own personal well-being. If our cup is empty, it is difficult for us to pour into others. If you have ever flown on a plane, you know that one of the instructions given is that in the event of an emergency, we should put our masks on first. While we understand that instruction, when it comes to our personal well-being, we fail to practice that concept. By taking care of our well-being first, we are better able to assist others. We show up better, are more productive, more creative and happier people when we take care of our well-being. It is essential that we focus on our internal well-being by taking time each week to do things that help us relax, replenish and rewind. We can no longer afford to put ourselves on the back burner.   
As an advocate for well-being and mental health, what common misconceptions are there about neglecting well-being?   
Many people cannot see the link between what they are doing every day and how it contributes to their overall well-being. People mistakenly think that we can put off taking care of ourselves and our mental and physical health will still be well. Another misconception is that well-being is only needed for people who have issues. People also believe that it is more important to be physically fit than it is to be mentally fit. The idea of taking care of one's well-being is seen more from a physical aspect and not really from a place of holistic health. Mental health in a sense is viewed as its own category that is unrelated to health.   
As entrepreneurs, we are tasked to solve loads of problems, lead our teams and provide guidance and encouragement to our teams. As such, our well-being is important for our own personal health which includes our mental health and the health and well-being of our companies. Mental health is part of health, and when we feel stressed, overwhelmed, anxious or depressed, all of those are under the umbrella of mental health.   
Why do you think there is a stigma associated with mental health and what role does culture play in this stigma?
The stigma around mental health lies in our fundamental lack of understanding of what mental health truly entails. The thoughts and conversations around mental health are usually filled with negative colloquialisms. Our culture in many ways perpetuates a negative image of people with mental illness because of how they portray people who struggle with mental health. There are not many movies or programs that highlight people with mental health challenges, so we are not very familiar with what it entails. We don't see the connection between mental health and our daily struggles. Under the mental health umbrella is anxiety and depression which many of us have experienced at different stages of our lives. Mental health encapsulates our emotional, psychological, and social well-being. It affects how we think, feel, and act. None of us are immune from mental health challenges. This is why we need to broaden the discussion and explain what it means.   
We think that if we admit that we have mental health challenges, that makes us look weak or troubled. We fear other people's opinions so we hide our struggles and pretend that we have it all together. Little do we realize that we have all sat at the mental health table at one point or another. The way we view mental health keeps people locked in a cycle of secrecy. How can we help someone if we are unaware that they are struggling? Moreover, many of us don't even know what the signs are of people who are suffering with mental health. People are less likely to share their struggles with mental health because they don't want to be judged. As a result, people continue to suffer in silence. We don't have to suffer in silence because we all struggle with some form of mental health challenges from time to time. If you are struggling with mental health, you are not alone. Seek a licensed mental health professional who can help you manage your challenges.    
Do you have any advice for entrepreneurs coping with the stress of the Coronavirus pandemic?   
Whenever we are going through a challenge in life, we tend to feel like we are the only one. The first thing is to recognize that you are not alone; we are in the boat with you. The other thing is to join positive communities, whether virtual or otherwise. When you band together with other positive people, they can lift you out of a pit. You will start emanating the behavior of the people you regularly rub shoulders with. Be sure to choose people who can take you higher and not drag you down. Also, shift your focus to the things that are going right in your life. Whatever we focus on only magnifies. If we focus on problems and what's going wrong then it consumes us and causes more stress. We can simply choose to focus on the things that are going right. When we do so, we gain momentum to keep moving forward.  
Whether it's the pandemic, a health scare, the loss of a loved one or a financial crisis that you are presently facing, your past record confirms your high success rate of overcoming challenges thrown your way. This too shall pass and you will be better for it.   
What else would you like to share?   
As entrepreneurs, we tend to do things on our own and be married to our work to the detriment of our well-being. There is a connection between our well-being and the quality of life we live. Let's invest in our greatest asset – ourselves – so that we can live long healthy lives. Many successful entrepreneurs have mentors and coaches who help them to navigate through life's ebbs and flow. We don't have to go through life on our own, we can partner with people who can catapult us into a deeper realm. We can go fast by ourselves but if we want to go far then we can go together. We are better together. Having an accountability partner is very important not just for business but for our own personal health. If we want to achieve better then we must be willing to do better.
The DC Women's Business Center (DCWBC) is supported by the U.S. Small Business Administration and is a program of the National Community Reinvestment Coalition (NCRC). The DCWBC's mission is to empower women entrepreneurs to build resilient and successful businesses, strengthen their community's economy, and create wealth for their families.   
If you have any questions or need assistance, please register for a one-on-one counseling session with our small business counselor by scheduling an appointment.   
Monti Taylor is DCWBC's resource coordinator.
Photo by Dan Meyers on Unsplash