Highlights
Non-banks continue their dominance of home lending, reporting 56% of all originations.
Quicken Loans overtakes Wells Fargo as the largest loan originator, with Quicken making 396k loans compared to 312k by Wells Fargo.
Just 7 of the 25 lenders that reported the most applications were banks.
Of those seven banks the three largest, Wells Fargo, JPMorgan Chase, and Bank of America, reported just 15% of their lending went to LMI borrowers.
The three largest non-banks made 29% of their loans to LMI borrowers.
Banks have almost completely abandoned FHA/VA loans. Virtually all of their mortgages are conventional loans.
About half of LMI borrowers use FHA/VA loans to buy their homes. Black and Hispanic borrowers use FHA/VA 65% and 55% of the time, respectively.
The largest non-banks use FHA/VA loans for their borrowers 35%-45% of the time.
Based on the overall loan percent of LMI borrowers, it appears that banks have failed to find alternative products to FHA/VA lending for LMI applicants.
The Consumer Financial Protection Bureau (CFPB) released the 2017 Home Mortgage Disclosure Act (HMDA) data on May 7, 2018, detailing mortgage lending information from nearly all lenders in the United States. The data showed that banks have dramatically reduced their lending to low- and moderate-income borrowers since 2010. It also showed that non-banks dominated home lending, reporting 56% of all originations in 2017, continuing a trend from 2016. Also for the second year in a row, the top three bank lenders reported an average of just 15% of their lending went to LMI borrowers, compared to 29% for the three largest non-banks.
CFPB should be applauded for moving this data to a new platform that is by all accounts easier and less expensive for lenders to use and comply with HMDA reporting requirements while making the data more useful to the public by getting it published earlier than ever before.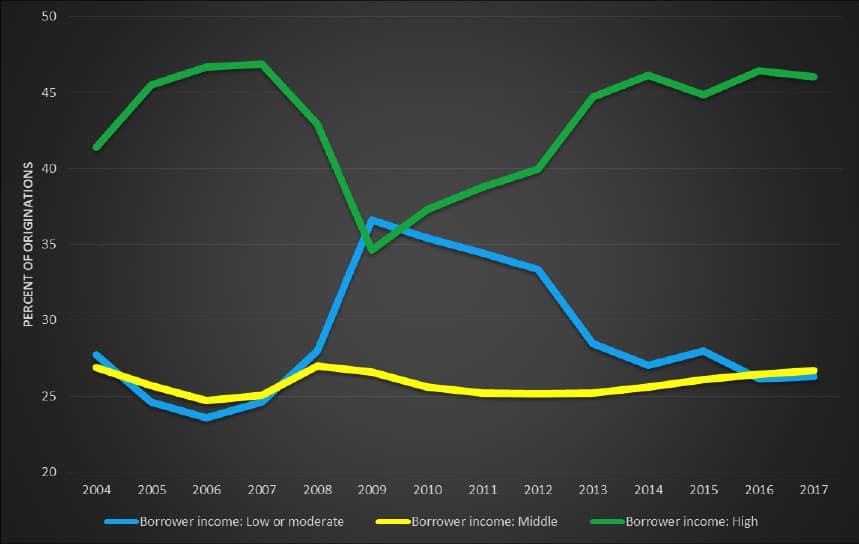 Unfortunately, the data itself is troubling. It shows that our largest banks are in retreat from lending to low- and moderate-income families and people of color. LMI borrowers continue to decline as a share of all home buyers. The loans that they rely on, FHA and VA lending, tend to cost more than the conventional loans banks offer to middle and upper-income buyers. Buying a home is increasingly difficult, more expensive, or impossible, for the nation's working class. This is reflected in the nation's homeownership rate, which is near a 50-year low.
Looking at the 25 lenders with the most loan applications in 2017 reveals some of those challenges in stark figures.  Just seven of them are banks that are responsible for meeting the credit needs of LMI borrowers under the Community Reinvestment Act (CRA).  Yet in 2017 those seven banks made an average of just 19% of their lending to LMI borrowers. Meanwhile, Quicken Loans, which surpassed Wells Fargo as the nation's largest loan originator in 2017, made over 28% of its home purchase loans to LMI borrowers.  This shift is reflected throughout the lending industry, as non-banks exceed banks in lending to LMI areas. How did non-banks consistently outperform banks in LMI lending when banks are the entities with a regulatory obligation to LMI borrowers? This is a question in need of more research.
In part, this dichotomy can be explained by reviewing the kinds of loans each class of lender makes. In 2017, as in previous years, about half of LMI borrowers used government-insured loan programs such as FHA, VA or RHS lending to make their purchases. These figures are even higher among minority applicants, where 65% of black and 56% of Hispanic applicants relied on FHA/VA or RHS lending. Meanwhile, banks continue to withdraw from this market. Less than 10% of Bank of America and Wells Fargo home purchase loans were government insured in 2017, for JPMorgan Chase it was under 4%. By contrast, the non-bank lenders in the top 25 all report 20% to 50% of the home purchase loans were FHA/VA.
Are banks finding alternative products such as Fannie Mae's HomeReady program for these borrowers that would be an acceptable alternative to nonconventional loans? It does not appear so based on this data. For the second year in a row, the top three bank lenders, Wells Fargo (16%), JPMorgan Chase (13.5%), and Bank of America (13%), reported an average of just 15% of their lending went to LMI borrowers. That is less than half the level of LMI lending those same lenders reported in 2010.
By contrast, the three largest non-banks, Quicken Loans, Caliber Home Loans and Fairway Financial Services, made between 28% and 30% of their home purchase loans to LMI families. These non-banks also use FHA/VA or RHS loans for 35% to 45% of their originations.
Jason Richardson is NCRC's Director of Research & Evaluation.