Forbearance is an option available to borrowers where they can stop making payments on their home mortgage loan and then repay that amount at a later date. This rarely used option has taken on new significance since the onset of the COVID-19 pandemic. The sheer scale of the lasting impacts on American households is difficult to really grasp thus far. 
The Federal Reserve has found that 40% of Americans making less than $40,000 a year have lost their jobs since the pandemic began. As of the first week of May, the official unemployment rate stands at 14.7% in the United States, with over 20 million Americans leaving the workforce in April alone. Over 26 million Americans have filed for unemployment insurance so far. According to one report, 20% of renters have still not made their May rent payments and almost 8% of mortgage holders have requested to have their mortgages put into forbearance. Some surveys suggest that as many as a third of homeowners and renters can't pay for housing right now. While some families haven't lost their jobs yet, a growing number are seeing hours cut, reducing their income and making every month a choice between paying the mortgage or buying food.
While the CARES Act instructed Fannie Mae and Freddie Mac to allow borrowers to place their loan in forbearance if they were unable to pay, there were numerous questions on how best to implement those requirements. On May 12th, Mark Calabria and the Federal Housing Finance Agency (FHFA) clarified that borrowers in forbearance would have the option of adding the forborn amount to the end of their loan. The agencies have also issued guidance to help servicers better understand how to explain these options to their consumers. The initial forbearance period of 180 days can be extended for another 180 days if needed. Once that period ends, the borrower can choose to repay the amount owed at that time, modify the loan or they can add the balance to the end of the loan. This means that the extra amount owed has to be repaid upon the sale of the property, the refinance of the loan or the satisfaction of the lien.
Deciding if they should enter forbearance and talking to their servicer is a complicated process for borrowers. We recommend contacting a HUD approved Housing Counseling Agency to speak with a housing counselor. A housing counselor is specially trained and certified to help you assess your financial situation, evaluate options if you are having trouble paying your mortgage loan and make a plan to get you help with your mortgage. These guys are your advocates!
Despite federal guidance from the Federal Housing Finance Agency, not everyone is complying. Horrific trends have been reported from housing counselors who have said consumers are being automatically enrolled into forbearance without proper consent. Negative credit reporting has begun appearing on consumers reports due to specialized codes from lenders reflecting the borrower being impacted by a disaster hardship. The CARES Act instructed lenders to report the credit obligation or account as current, but some borrowers have claimed their account has been reported as delinquent even though they were current before requesting the forbearance. Individuals who are experiencing service delivery inconsistent with the CARES Act are encouraged to submit a complaint to the Consumer Financial Protection Bureau.
Here's how the mortgage forbearance process should work during COVID-19.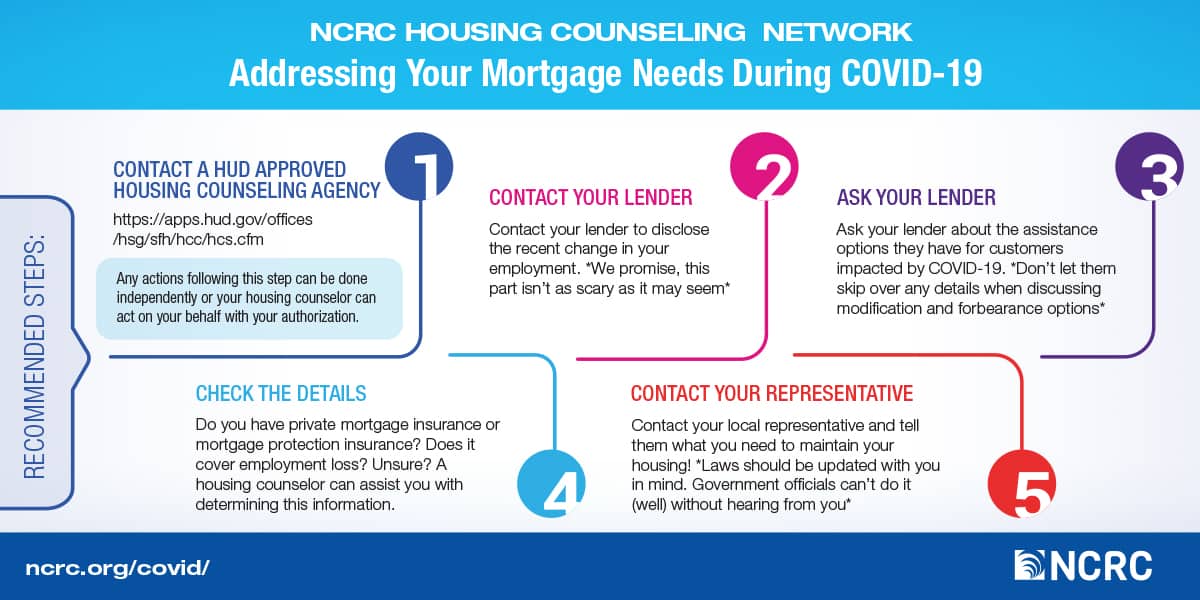 If your loan is owned by either Fannie Mae or Freddie Mac you can ask for forbearance. If your loan is owned by your lender or other investor you can contact them for options. FHA loans are usually owned by Ginnie Mae, who has their own forbearance program. Check your servicer's website for more information
Once you speak with your servicer and confirm that you are eligible for forbearance you need to consider this option carefully. Although the CARES Act forbids credit reporting agencies from listing your loan as past due, the fact you are in forbearance does appear on your credit report. There are reports that this notation is being used to restrict other lines of credit. However, the benefits may outweigh this risk, especially if the choice is between forbearance or losing your home.
Call your servicer

Ask questions- here's a few to get started

What options are available to help temporarily reduce or suspend my payments?

Are there forbearance, loan modification or other options applicable to my situation?

Can you waive late fees on my mortgage account?

Document Everything!

Ask for written confirmation from your lender of the forbearance.

Take notes:

Write down the name of everyone you've spoken too

Ask for the representative's ID number

Record the date of each interaction
If you have a mortgage and are impacted by the COVID-19 pandemic, do not sit idly by and wait to see what will happen. Communicate with a HUD Certified housing counselor, talk with your servicer and explore your options. In a confusing and stressful time, your home should provide a safe and secure place where you can focus on remaining healthy and preparing for the future.
Ibijoke Akinbowale is NCRC's Director of the Housing Counseling Network.
Jason Richardson is NCRC's Director of Research & Evaluation.
Photo by Nathalia Segato on Unsplash