Home Mortgage and Small Business Lending in Baltimore and Surrounding Areas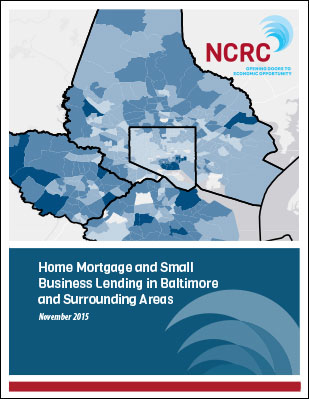 Home Mortgage and Small Business Lending in Baltimore and Surrounding Areas
(Download PDF)
This report, Home Mortgage and Small Business Lending in Baltimore and Surrounding Areas, details lenders' abandonment of neighborhoods in Baltimore based upon the race of members of those neighborhoods and the preferences of lenders for white borrowers and majority white neighborhoods. Using maps, statistical analyses, and public data, NCRC presents an alarming picture of Baltimore.
Key findings of the report:
· There are very different patterns of lending in Baltimore City and the surrounding counties, with disinvestment in most of the city and affluence in the suburbs.
· In Baltimore City, race matters most in mortgage lending. Lending is greater in neighborhoods with larger white than African American populations, and there are tremendous disparities in home lending for African American and white residents.
· In the surrounding suburban counties, economic factors are the most useful in predicting home purchase lending activity.
· It is very difficult for borrowers of any income to be approved for mortgage loans in Baltimore City, where low- to moderate-income (LMI) census tracts are the majority. An LMI applicant is more likely to receive a mortgage loan in wealthier neighborhoods in Baltimore County.
Geo-coding provided by Texas A&M University GeoServices.