Washington, DC – Today, on the 39th anniversary of the date the Community Reinvestment Act (CRA) was signed into law by President Jimmy Carter in 1977, National Community Reinvestment Coalition (NCRC) President and CEO John Taylor made the following statement:
"For nearly four decades, the Community Reinvestment Act has been instrumental in creating billions of dollars of wealth for our nation's communities, particularly in low- and moderate-income neighborhoods. By requiring financial institutions to serve the credit needs of the communities in which they are chartered, and requiring safe and sound lending, CRA has made possible the responsible home mortgages and small business loans that have provided working Americans with economic security and wellbeing. When everyone has a fair shot at economic opportunity, we all benefit."
"We urge federal banking regulators to act upon the concerns expressed to them last week by members of the House and Senate regarding the need to modernize the CRA regulation and improve their enforcement of the law. Now more than ever, stronger CRA enforcement is crucial to ensuring that banks meet their affirmative obligation to fulfill the credit needs of the communities where they are chartered. We also call upon Congress to expand CRA to cover other institutions such as credit unions and independent mortgage companies, who should also have this same obligation."
Since 1996, CRA-covered banks issued more than 24 million small business loans in low- and moderate-income tracts, totaling more than $973 billion.
Since 1996, CRA-covered banks made more than $883 billion of community development loans. Community development loans support affordable housing and economic development projects benefiting low- and moderate-income communities.
The annual dollar amount of community development loans increased 391.6 percent from $17.7 billion in 1996 to $87 billion in 2015. The annual dollar amount likewise increased 115.9 percent from 2010 to 2015.
Economists Robert Avery and Kenneth Brevoort also find that CRA-covered home lending is safer and sounder than non-CRA covered lending. They report that when a larger share of lending was issued by CRA-covered banks than by independent mortgage companies, a neighborhood experiences lower delinquency rates and less risky lending. This study, which can be found

here

, is one of many affirming the safety and soundness of CRA-covered loans.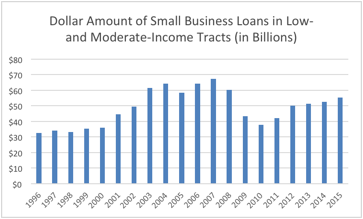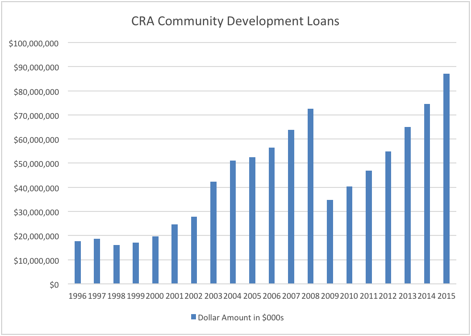 Chart source: NCRC calculations of data from the Federal Financial Institutions Examination Council (FFEIC) webpage. See http://www.ffiec.gov/craadweb/aggregate.aspx for data on community development lending and small business lending by year.
Last week, NCRC applauded letters from members of the U.S. Senate and U.S. House of Representatives to the financial regulators expressing concerns about enforcement of the Community Reinvestment Act (CRA) and calling for reforms to its guidance and regulations.
This year, NCRC and several of its members negotiated Community Benefits Agreements with KeyBank and Huntington Bancshares, Inc., totaling over $32 billion.
###
About NCRC
NCRC and its grassroots member organizations create opportunities for people to build wealth. We work with community leaders, policymakers and financial institutions to champion fairness in banking, housing and business development.