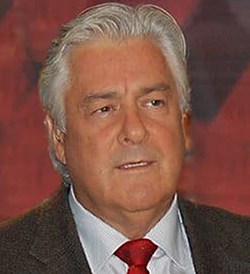 John Taylor, the founder and longtime president of the National Community Reinvestment Coalition (NCRC), announced he will retire August 1 and remain a consultant to the NCRC CEO and board for three years. The nonprofit organization will continue to be led by Jesse Van Tol, who became CEO and co-leader with Taylor in 2018.
Taylor will discuss his plans in a speech at the Just Economy conference today at 3 pm ET. Register here to attend. 
"John's vision and leadership set us up for the future, and his passion for economic justice is literally the foundation of all our work and programs," Van Tol said. "John is a mentor, and a dear friend, and I want to personally thank him from the bottom of my heart. He has been a moral leader for many people, through his consistent encouragement of government and corporate leaders to do more to address inequality. We stand on his shoulders."
Taylor moved from Boston to Washington, D.C., to launch and open NCRC's first office in 1992.
Under his leadership, NCRC grew into an association of more than 600 community-based organizations, and into a social enterprise that produces agenda-setting research, investigations, publishing, training, insight and programs to increase the flow of private capital into traditionally underserved communities
"For 30 years I've been able to do something that never felt like work," Taylor said. "I grew up in a poor community in Boston and the racial and economic inequality and unfairness I saw there motivated me to work for change. That's not going to stop when I retire, we still have a long way to go, and I'm going to remain involved with some NCRC programs. But I am looking forward to spending more time with my family and friends, and for travel."
From the beginning, NCRC and Taylor defended and advocated to strengthen the Community Reinvestment Act, an anti-redlining law that requires banks to make loans in all the communities where they take deposits, including poor ones. Under his leadership the organization also grew to incorporate a fair housing / fair lending agenda with a portfolio of programs and services to expand access to mortgage and small business loans in low- and moderate-income communities and to expand opportunities for upward mobility.
Today, thanks to Taylor, NCRC is deeply engaged in the deployment of capital for community impact. One initiative launched in 2015, GROWTH by NCRC, has built or renovated more than 700 affordable homes for low- and moderate-income families in 15 cities. In 2020, NCRC launched its Capital Markets division to expand NCRC's reach and service to small businesses in lower-income communities, especially those owned by people of color, women and veterans.
NCRC also provides business-building expertise and financing to small businesses; training, and financial support for housing counselors and entrepreneurs; monitors, investigates and challenges discrimination in lending and housing; and convenes and facilitates dialogue between financial institutions and community networks to increase lending, investments and philanthropy in neighborhoods that need it.
Since 2016 those efforts have produced Community Benefits Agreements with 15 banks worth $300 billion to the communities served by those banks. That includes an $88 billion commitment announced April 27 with PNC Bank, the largest Community Benefits Agreement ever.
"It has been such an honor to work so closely with John, and to have a front-row seat to some really amazing work under his leadership," said Bob Dickerson, Executive Director of the Birmingham Business Resource Center in Alabama, and the immediate past chair of NCRC's board of directors. "John worked so hard for 30 years to get NCRC where it is today, and now we're set up to continue to press for public sector policies and private sector practices to build a just economy."
"I'm sure he doesn't remember, but I met John a little under 20 years ago through my mentor Dean Lovelace," said Catherine Crosby, Chief of Staff for the city of Toledo, Ohio, and NCRC's new board chair. "He was the keynote speaker for the Dayton Community Reinvestment Institute. After hearing his passion for economic justice and commitment to ensuring that communities of color and low-income families have access to opportunity, we were all fired up and invested in the mission of NCRC. I am in awe of what John has built and will forever admire his passion for this work. We cannot thank him enough for the sacrifices and investment he has made working toward achieving such an awesome mission."
Taylor will continue to advise Van Tol and several of NCRC's programs after his retirement on Aug. 1. NCRC also plans to establish a fund in Taylor's honor, and, if pandemic conditions allow, to hold a retirement party and gala in his honor in the fall.