Last month, the National Community Reinvestment Coalition (NCRC), the South Alabama Fair Housing Center (SAFHC) and We Matter Eight Mile Community Association (We Matter Eight Mile) held a community meeting in the predominantly Black community of Eight Mile, north of Mobile, Alabama. The meeting served as an update on efforts to seek justice for community members who experienced lingering health issues after a 2008 chemical spill.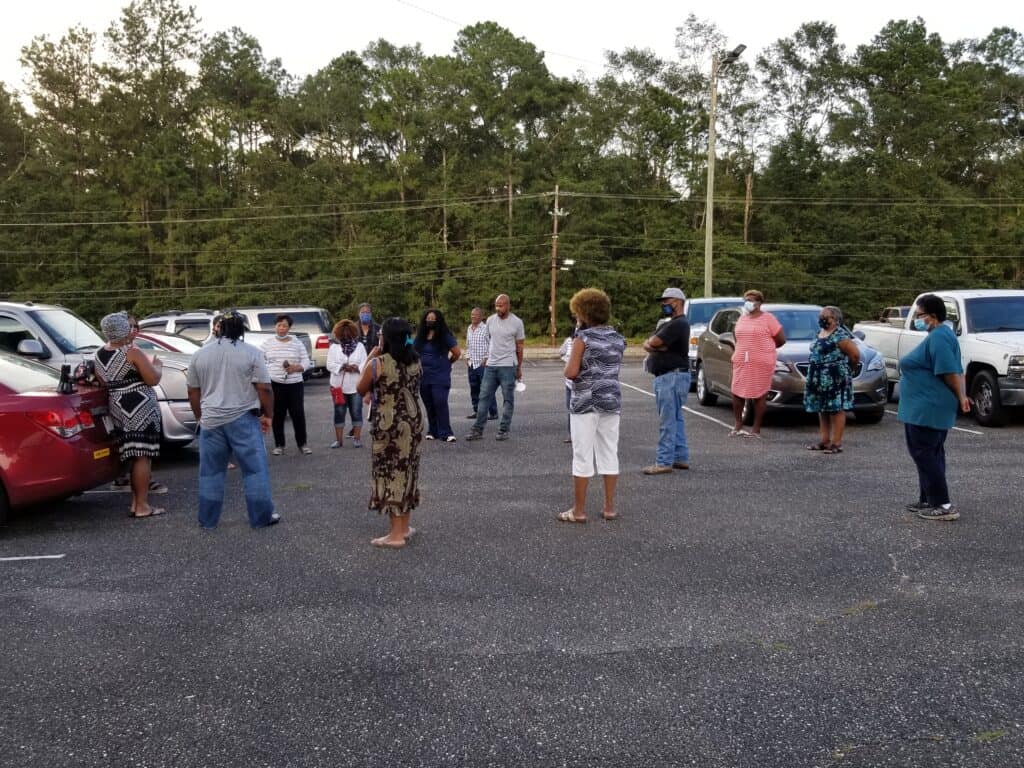 At the meeting, a young Black woman posed a simple question to the environmental racism in her community, "What can we do?"
The Eight Mile community meeting was held at Highpoint Baptist Church to provide residents with an update on the complaint NCRC, SAFHC and We Matter Eight Mile filed with the Department of Housing and Urban Development (HUD) against utility companies Spire and Sempra Energy. In 2008, Sempra Energy spilled more than 6,000 pounds of Mercaptan in the Eight Mile community. Spire Energy acquired the facility where this spill occurred eight years later, in 2016. At that time, residents hoped that something would have been done to address the chemical spill's impact on their health, and their diminishing home values. However, residents continue to face a number of health issues, including respiratory illnesses, making them more vulnerable to COVID-19. In addition, many experienced a loss in their property values – often the only intergenerational asset of wealth available for their families.
Environmental racism, a term coined by civil rights leader Benjamin Chavis in 1982, is a form of systemic racism in which communities of color are disproportionately impacted by toxic waste and health hazards perpetuated through corporate and government policies and practices.
What happened in Eight Mile, Alabama, is a clear case of environmental injustice and housing discrimination. The same utility company, Sempra, had a similar chemical spill in the upscale, predominantly White neighborhood of Porter Ranch, California, in 2016. That spill was properly remedied, community members were compensated, and the company paid more than $4 million in fines. Yet, Eight Mile residents are still waiting.
Many residents who attended the community meeting shared their concerns that a resolution would never come and even if it did, it would not be in their favor. These residents shared freely in the meeting their overwhelming sense of hopelessness. They discussed that in addition to the chemical spill, there were other environmental issues throughout the community. One resident shared that brown water flowed from his kitchen faucet and demanded something be done to ensure clean water in the community, while another resident voiced his concerns about the toxic waste dump located right behind his home.
Under the Trump administration, HUD failed to thoroughly investigate all the allegations set forth in our complaint, and it was dismissed on December 2, 2020. With a new administration in office, NCRC and SAFHC filed a request for reconsideration on February 2, 2021. We have yet to receive a response.
The residents of Eight Mile are just one of many communities impacted by environmental racism. The reality is that environmental racism suffocates Black communities. It takes many forms and Black residents across the country continue to fight an uphill battle in securing safe, habitable communities. For example, Black Americans are disproportionately affected by the air pollution and toxic waste caused by the energy industry – more than 1 million African Americans reside within a half-mile of an existing natural gas facility. A 2017 report from the NAACP said the US oil and gas industry releases an estimated 9 million tons of methane gas and other toxic chemicals, including Mercaptan, annually into the atmosphere. This proximity often exposes Black residents to health, economic and social hazards. The Eight Mile community's reality is the same reality of Black Americans across the nation who are 75% more likely than others to live near facilities that produce hazardous waste. Yet, this does not have to be tomorrow's reality.
Corporate polluters should be punished for poisoning anyone, the pollution itself should be reduced and remediated everywhere, and victims of industrial pollution should be compensated well enough to enable them to access appropriate healthcare services, maintain the value of their homes and property, and if they choose to do so, move to safe, healthy and livable communities.
Rose Ramirez is NCRC's senior civil rights investigator.
Brad Blower is NCRC's General Counsel.