A person's health is inseparable from their ability to live well and participate fully in their communities. For centuries, conventional wisdom held that individual health was primarily determined by individual behavior. 
But in recent years, it has become clear that health goes far beyond personal choices and genetic codes. Our health is strongly influenced by social, environmental and behavioral factors, which drive up to 80% of health outcomes. These "social determinants of health" (SDOH), which include racial discrimination, housing, food access and air and water quality, are the conditions that community development leaders focus on in their work towards long-term equity. 
At NCRC's 2023 Just Economy Conference in Washington, DC, leaders in the health equity space explained how partnerships between major players in community development can rectify disparities caused by SDOH.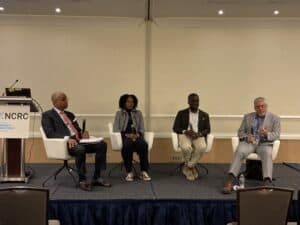 The panel series, sponsored by JPMorgan Chase, began with "Collaborations in Health Equity: Integrating social determinants of health into your community." Speakers from the nonprofit, hospital and government spaces discussed the interconnectedness of SDOH and health equity and their sectors' duties to work together on solutions. Dr. Jean Accius of the nonprofit Creating Healthier Communities (CHC) underlined the glaring health disparities between zip codes with a local example: a majority-White neighborhood in Washington, DC, has a life expectancy a jaw-dropping thirty years longer than the mostly Black neighborhood of Anacostia. 
"We cannot afford socially, economically to allow (health) disparities to go on," Accius said. "When this disparity isn't addressed, we cannot invest in education, in paying teachers and more."
With such high stakes, Dr. Accius elaborated that, "Healthcare systems cannot do all this themselves. So much of life happens outside of healthcare facilities."
A veteran hospital industry executive seconded that recommendation for activists to avoid conceiving of healthy communities as being determined solely by healthcare services. 
"Healthcare is being asked to do more than ever before: to address housing, food insecurity, to step in where the government is failing," said Pablo Bravo, who led community health work for CommonSpirit, a national hospital chain, before becoming an independent consultant. "We need to bring together communities to address health disparity issues, and this includes the financial sector. This will be more impactful than just the healthcare sector working alone."
Bringing community development organizations into health work does not mean letting hospitals step back from it. In a second panel discussion, titled "Collaborations in Health Equity: The Healthcare Industry and Bank Partners," representatives from the hospital and banking industries detailed how health systems are investing in communities, at times with the support of banks. 
"Bon Secours looks a lot like a community development organization," said George Kleb of Bon Secours Baltimore Community Works."We do housing, and we work with banks as investors on projects. We might work directly with CDFIs [community development financial institutions] to provide lines of credit for loans. Or we might work with federal credit unions on home repairs."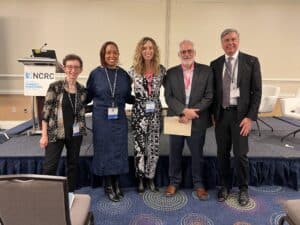 The financial industry is keen to foster such partnerships between healthcare institutions and community development organizations, said David Erickson, SVP and Head of Community Development and Education at the Federal Reserve Bank of New York. "You're the most important health workers of our times," Erickson said. 
"Medical practitioners don't have as much control over health as community development workers like the people in this room. Eighty percent of health happens outside of the hospital. This is what you bring to the table." 
Gina Patterson, BOS (Boston Opportunity System) Collaborative Director at Boston Medical Center, said SDOH interventions are often rooted in the needs directly expressed by the communities the hospital is engaging with.
"We want to know how to invest in Black and Brown entrepreneurs and mom and pop shops," Patterson said. "Why? Because the neighborhood and community wanted it. It is important to have a north star that is thoughtful, achievable and supported."
Bon Secours and Boston Medical Center are two examples of the role "anchor institutions" can have in expanding and refining health equity in their communities. Anchor institutions are large organizations tethered to their communities and physical location, such as nonprofits, hospitals, churches, media and banks. These high-impact anchor institutions shape community life on multiple frequencies, from hiring to providing services locals rely upon. 
Institutions so tightly woven into local social fabrics have the credibility and local knowledge that are integral to addressing SDOH, said Phyllis Dickerson, CEO of the African American Mayors Association. Dickerson saw striking examples of how SDOH can shape community outcomes for the worse while serving as chief of staff to Little Rock, Arkansas, former mayor Mark Stodola during the COVID-19 crisis.
"People don't just want someone to care. They want someone who cares enough," Dickerson said. "It is one thing to be medically educated, but it's another to be culturally educated." 
Such cultural attunement may require some humility for organizations looking to stand up new programming tied to health and wellness, Dr. Accius said.
"When we talk about community engagement, this is the place to start," Accius said. "Communities will know. Co-create solutions with them."
Magdalena Mysliwiec is NCRC's Health Equity Specialist.
Just Economy Conference photo by Joe Shymanski.