About 1,000 attendees filled the Washington Hilton with joy, passion and ideas at the National Community Reinvestment Coalition's 2022 Just Economy Conference this week, amid palpable relief at the opportunity to bump elbows with peers after two years of Zoom meetings and online-only events.
Everyone who came to the conference tested negative for COVID-19, with many expressing appreciation for the testing protocols NCRC had put in place to ensure a smooth, safe experience. Our commitment to safety got underscored, sadly, by President and CEO Jesse Van Tol's inability to attend after testing positive just days before the conference launched.
"Sorry I can't be there," Van Tol said in videotaped remarks at Monday evening's awards gala, "but with COVID, sharing is not caring."
Van Tol was able to host a recorded conversation on pending updates to the Community Reinvestment Act (CRA) regulations with Federal Reserve Board Vice-Chair Lael Brainard and Acting Comptroller of the Currency Michael Hsu.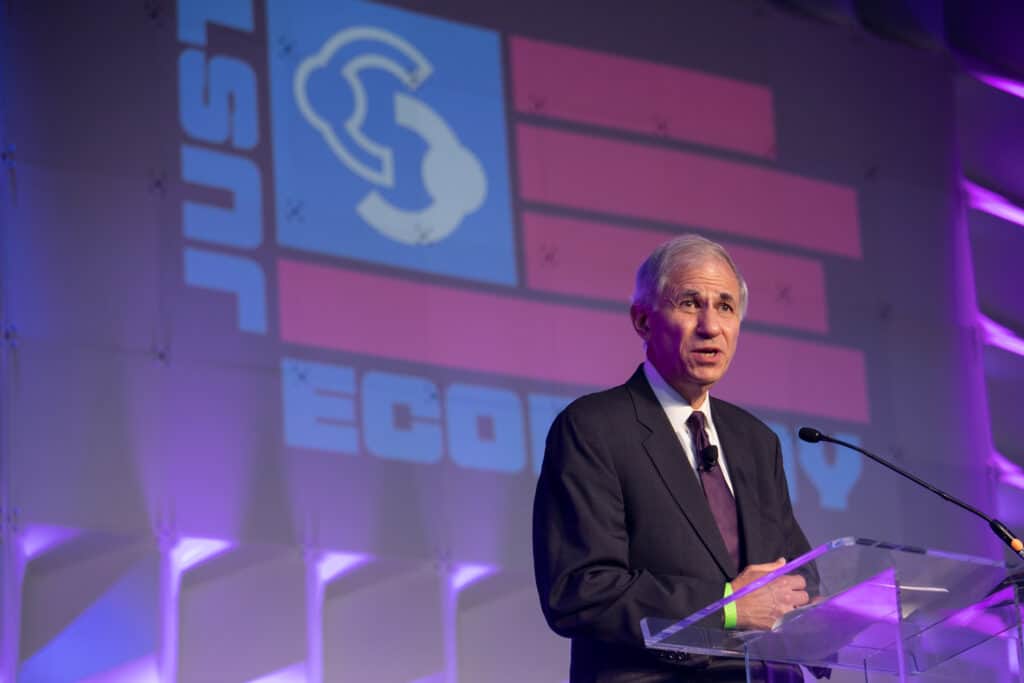 Conference attendees watched that discussion following an opening keynote from FDIC Acting Chair Martin Gruenberg, who emphasized the importance of expanding CRA enforcement to consumer lending and updating them to ensure bank behavior is monitored everywhere they lend and not just where they are physically located.
Between keynote remarks and provocative breakout sessions, attendees mingled and networked on a conference floor that featured a #JustEconomy photo-booth, a station for working on comment letters about Community Reinvestment Act regulatory reform and multiple visual displays of NCRC's research and data tools:
Great @NCRC research station at the #JustEconomy conference showing the persistent effects of #redlining on Indiana communities, including racial segregation, economic stagnation, and damage to health & life expectancy. That's why we need to #TreasureCRA! https://t.co/QzvcLUhiVx pic.twitter.com/Ex2UtiRdiH

— Andrew Bradley (@AndrewBradleyUS) June 14, 2022
Excited crowds packed into mask-mandatory breakout rooms for scores of panel discussions over the two-day conference, covering a staggering range of topics.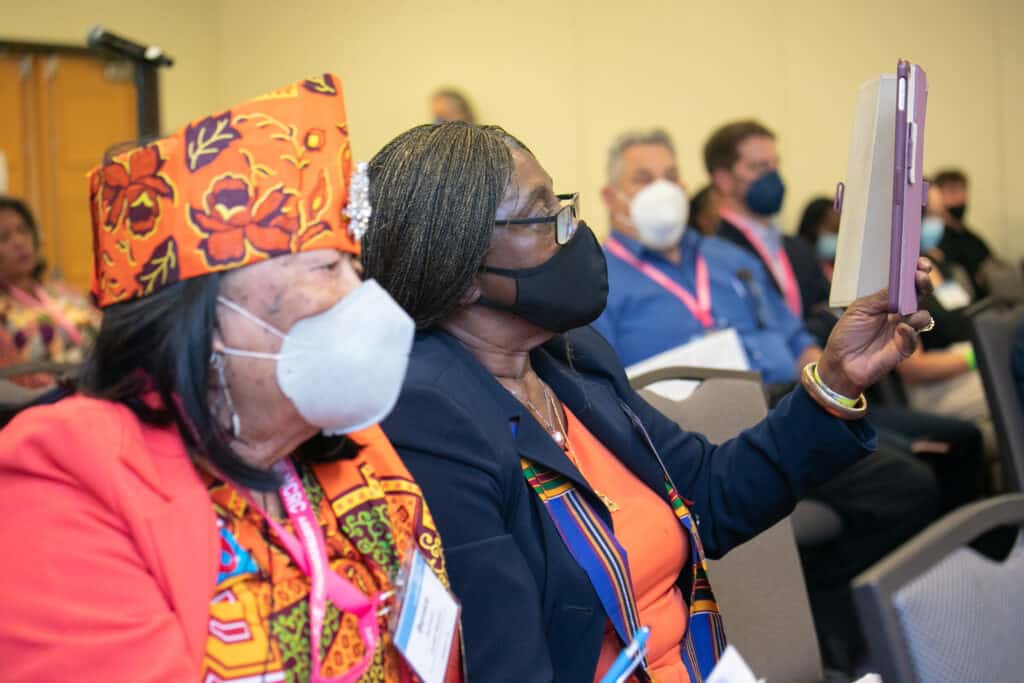 At one such session, Cornell Law Professor Saule Omarova and Bitfury Group CEO Brian Brooks held a punchy, genial debate over the effect cryptocurrency is having on inequality and opportunity.
At another, covering the intersection of the climate crisis and the Community Reinvestment Act, Cynthia Castillo of the Western Center on Law and Poverty emphasized that environmental provisions in economic policies are necessary "to keep people alive during extreme [weather]." 
Two sides of the crypto coin: pitchman Brian Brooks and Saule Omarova, who just warned that an #AmazonCoin could replace or subvert the US dollar. #JustEconomy pic.twitter.com/iuoeXLu2g2

— FairFinanceWatch.org (@FinanceWatchOrg) June 13, 2022
"The land doesn't discriminate – people do," National Black Farmers Association Founder and President John Boyd said in a session covering rural America's particular forms of lending inequality.
Monday evening gave the #JustEconomy community a chance to show our appreciation for NCRC founder John Taylor. Taylor retired in 2021 after building the organization from a one-man band to a true coalition of nearly 700 member organizations across 46 states and territories, with a full-time staff of 60-plus people who advocate on behalf of our members and help coordinate and support their efforts in their communities.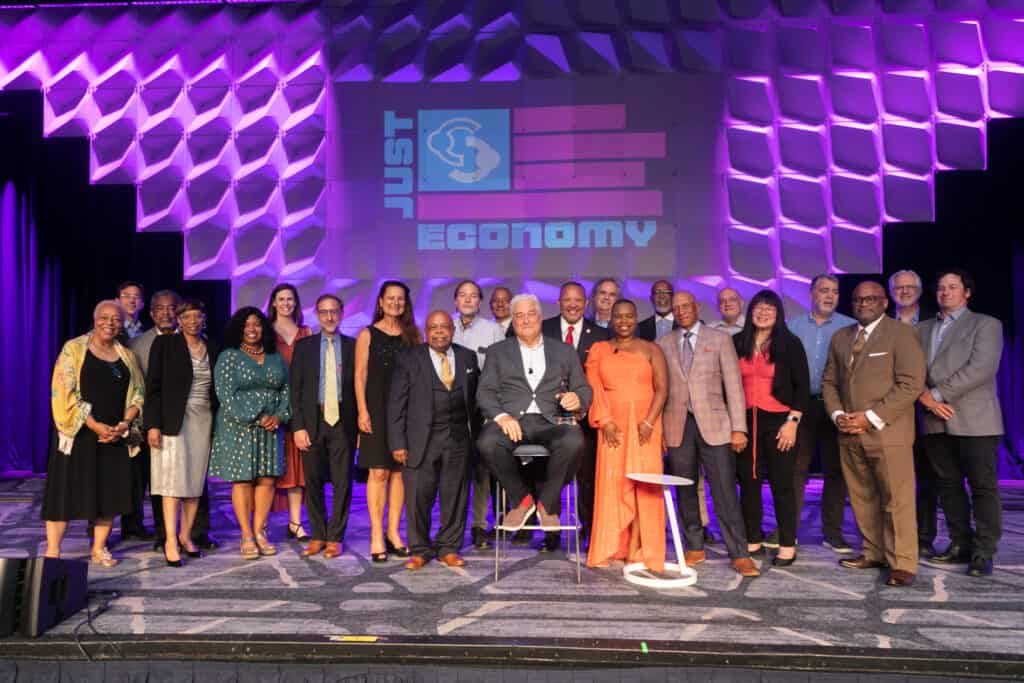 As luminaries of the movement for economic equality gathered to give Taylor NCRC's Lifetime Achievement Award, the moment sparked impassioned reminders of why we work so hard in a long-term struggle for justice.
"Where I am from, people count out families like mine," NCRC Board Chair Katy Crosby said at the presentation. "So, I was inspired to pursue leadership positions, where decisions were made, so I can make a difference in the communities I call my own."
View this post on Instagram
The ceremony featured one special surprise guest: National Urban League President and CEO  and former New Orleans Mayor Marc Morial.
"Have a highly trained mind and a well-tuned heart," Morial said, encouraging NCRC members to follow Taylor's example. "Be impatient for a purpose [and try to] get accused of being too passionate."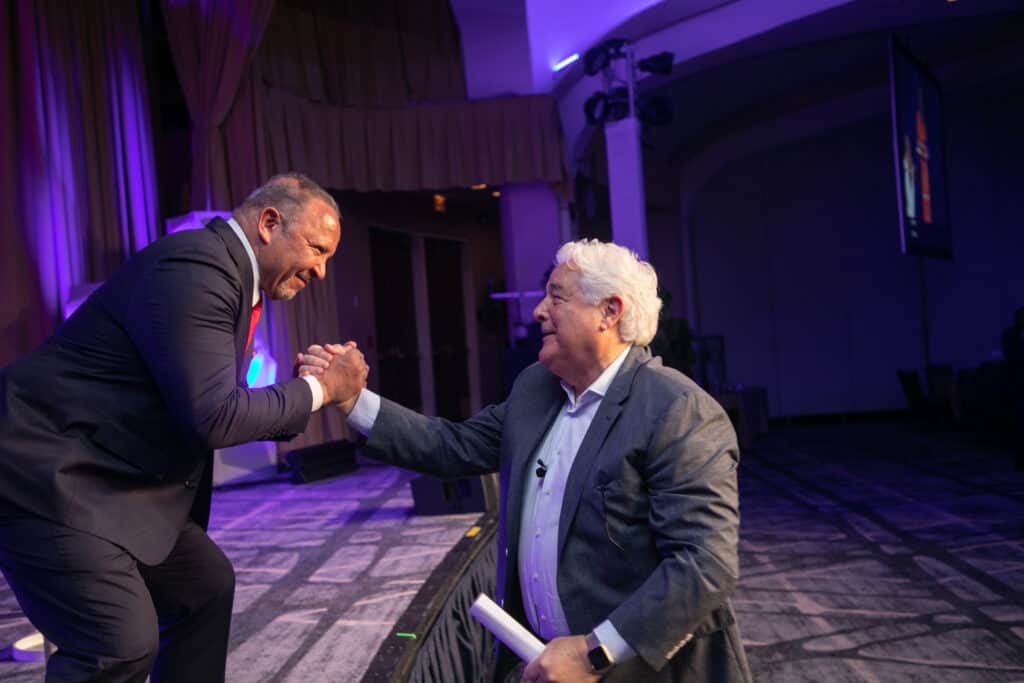 Before the award ceremony for Taylor, the gala mainstage featured detailed discussions of the push-pull process by which NCRC and our members strike and enforce meaningful community benefit agreements with financial institutions in their communities.
About last night… our ED @barikaXw celebrated a strong CBA with @MandT_Bank and @NCRC including wins for NYC: Branch in the Bronx, ?for #communityorganizing, home repair loans, anti-displacement practices, and more. cc: @empirejustice Western NY Law center #NCRC pic.twitter.com/eUP3e0sXTx

— ANHD (@ANHDNYC) June 14, 2022
Executive staff from M&T Bank and U.S. Bank described the experience from their perspective as well, lauding NCRC members for facilitating an environment where everyone could have heated debate and stark but civil disagreements while always returning to a spirit of collaboration, shared purpose and constructive compromise.
Tuesday's conference sessions featured breakouts on best practices for community development advocates to incorporate social determinants of health into their work, sustain their organizations as we emerge from the pandemic, and harness the power of community land trusts.
"The land doesn't discriminate, people do. The land isn't political, the land = food! But we can't do it without credit. The #CRA needs some meat on it," says John Boyd of Nat'l Black Farmers Ass'n. @JWBoydNBFA #TreasureCRA #JustEconomy pic.twitter.com/y3wTO8WCv7

— Andrew Bradley (@AndrewBradleyUS) June 13, 2022
On the mainstage, Community First Fund President and CEO Daniel Betancourt discussed how federal financing flows into local economies with NCRC Chief of Community Finance and Mobility Marisa Calderon.
And the 2022 Just Economy Conference closed out with a bang as journalist and author Anand Giridharadas and NCRC Chief Communications and Marketing Officer Andrew Nachison discussed structural problems with the American economy and American democracy. The crowd delighted to Giridharadas' critique of "the win-win ideology" in corporate philanthropy and his colorful diagnosis of the country's democracy crisis.
"We are struggling right now because a significant minority of people in America would rather shatter the country than share it," Giridharadas said. "It's not most people, but it is a determined, organized minority faction. It's the same faction that did Jim Crow, and the same one that upheld most racist policies in this country."
The way to beat that organized ideological minority, he said, is to present a more fun, livelier vision of life in America than what those forces are pitching.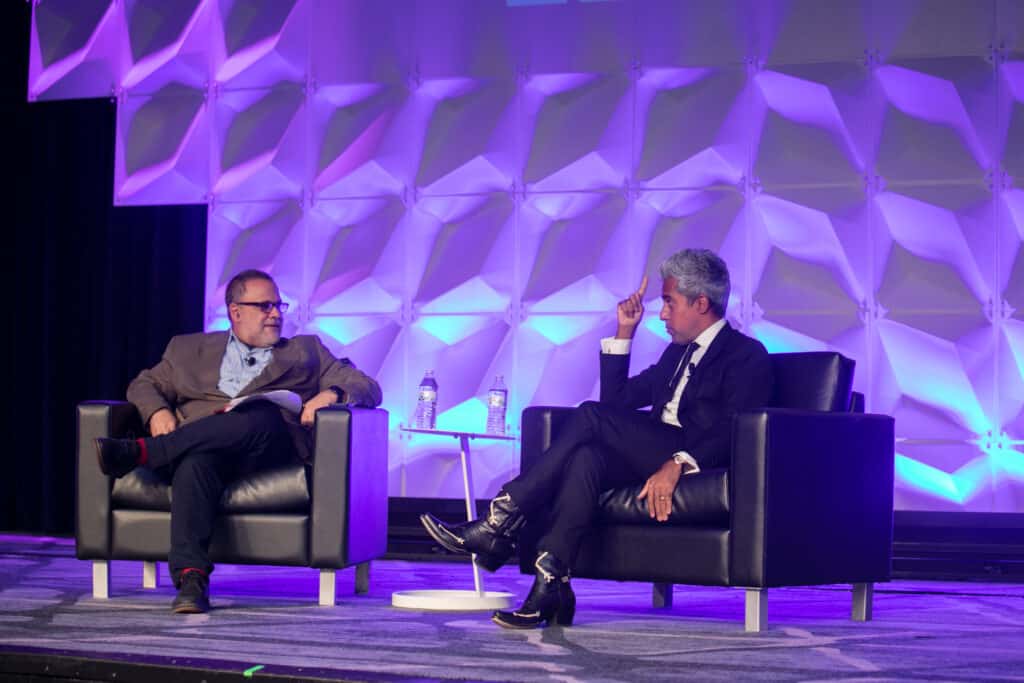 "We need," Giridharadas said, "to throw a better party."
And that's exactly what we did to round out the 2022 Just Economy Conference!
Attendees flowed from the ballroom up to a closing reception hosted by the DC-based go-go band Rock Steady Project. NCRC staff had gotten to know the band members previously through their participation in a documentary about gentrification and displacement in Washington, where go-go music has often been a flashpoint in conflicts between luxury developers and local residents who are being priced out of their city.