Banks were twice as likely to offer white entrepreneurs help with their small business loan applications compared to black entrepreneurs, a new "mystery shopping" study found. The study, conducted by a team of researchers from the National Community Reinvestment Coalition, Utah State University, Brigham Young University, Rutgers University and Lubin Research, also found that bankers were three times more likely to invite follow-up appointments with white borrowers than better-qualified black borrowers.
Overall, black entrepreneurs seeking loans for their businesses were subjected to far more scrutiny compared to their equal or less creditworthy white counterparts.
"This research provides us with a new lens through which to look at disparities faced by African American business owners," said Stella Adams, Chief of Equity and Inclusion at NCRC and one of the lead researchers in the study. "The study shows that it's access, not assets, that serve as a barrier to the capital and credit necessary to grow a business."
While discrimination experienced by minorities seeking home ownership has been studied and addressed in a variety of federal laws designed to prevent it, this new research focused on how discrimination impacts minorities seeking business loans, which has not been documented as thoroughly.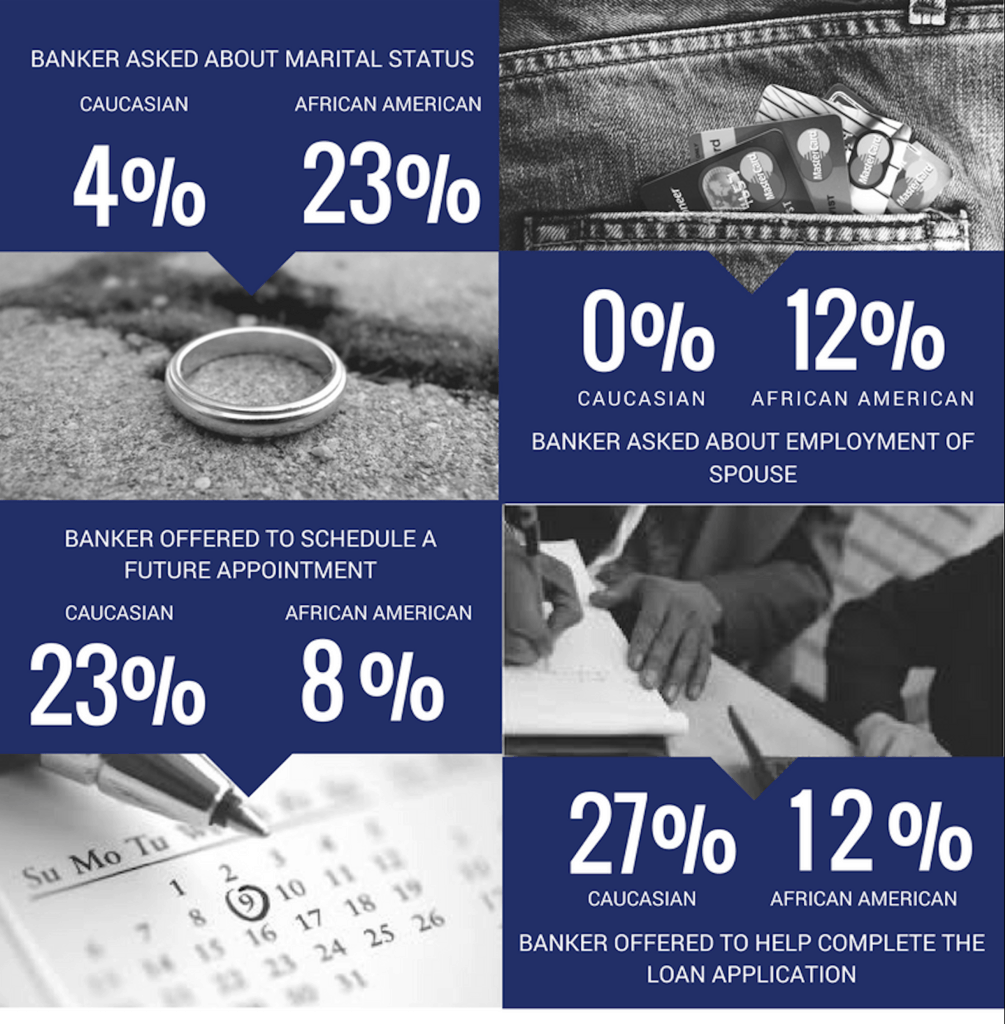 The study used a matched-paired mystery shopping methodology to document the difference in treatment between white and black entrepreneurs.
Researchers set up teams of black and white males who were matched with identical qualifications and characteristics, such as education, age, income and attractiveness. They were also trained in the credit seeking process. The pairs used identities designed by the researchers to apply for loans at 17 financial institutions in East Coast cities between May and July 2017.
"I think the finding that bothers me the most is that the bankers spend 30 minutes in conversation with a person and do not bother to say thank you for coming in, thank you for coming to see me," Adams said. "This is common courtesy, and at a statistically significant level, it was not a courtesy extended to African American loan inquirers."
David Smith, chief of staff at U.S. Black Chambers Inc., an advocacy organization that supports African American-owned businesses, said the findings were disappointing but not surprising. He said that when he meets a new member, access to credit is their number one concern and he routinely hears stories of mistreatment.
"I am happy there is finally some data to document the lack of trust and empathy for these aspiring businesses," Smith said. "This evidence shows that from the moment black entrepreneurs walk in the door, before they even open their mouth, they are at a disadvantage."
Smith intends to use the findings to highlight for banks and bank regulators that solutions to discrimination need to be a priority within the industry. He hopes these findings will lead to experimentation with blind assessment, when the race of the business owner is not disclosed, or alternative solutions to remove pervasive color barriers faced by entrepreneurs.
The researchers believe their findings will inform Consumer Financial Protection Bureau policies protecting minority and women-owned businesses.
"African American wealth has been stripped in so many ways and places,"Adams said. "This is yet another industry where we are overdue for a change in practice. It is common sense, and dollars and cents."
Photo by rawpixel.com via Unsplash