NCRC's membership includes more than 600 community-focused organizations in 44 states. Here's an introduction to one of them, Habitat for Humanity of Kansas City from their Homeowner Services Director, Kylie Navarro. 
Tell us about your organization's mission/focus area.
Habitat for Humanity builds homes, communities and hope. We know there are more than 13,000 families in Kansas City struggling to find affordable housing. Habitat for Humanity of Kansas City partners with families to provide strength, stability and self-reliance through shelter. Through this partnership, each family has the opportunity to build or rehab and purchase their own decent home with an affordable zero-interest mortgage. When hard-working families are surrounded and supported by determined volunteers and generous donors, a future full of opportunity is built. 
Since 1979, we have built or renovated more than 850 homes in Wyandotte, Leavenworth and Johnson counties in Kansas, and Clay, Platte and Jackson counties in Missouri. In addition to providing affordable housing, Habitat KC has helped thousands of families through our housing counseling program.
Describe a current challenge in your community and how your organization is addressing this?
The need for affordable housing has never been greater:
1 in 10 households in Kansas City is spending 50% or more of their income on housing – about 21,000 households.

The city's median household income (regardless of household size) is $47,480, less than the US Median Household income of $55,322.

Over 30,000 households have an income of less than $15,000 annually. This shows that there is a substantial demand for housing at very low income levels. (Source: U.S. Census)

There is an extreme undersupply of housing at the low-income end of the market
As the seventh oldest affiliate of Habitat for Humanity International, and the largest nonprofit homebuilder in the Kansas City area, Habitat for Humanity of Kansas City builds strong and stable neighborhoods by building strong and stable homes. We believe that to break the cycle of poverty, low and medium-income families need their income spent on housing to serve two purposes: provide a decent, affordable place to raise a family and build wealth through homeownership. We know that we cannot serve every family that comes to us with a Habitat home so through our housing counseling program we educate our clients on the home buying process and help them to get mortgage ready so that they can purchase a home on the open market. 
What prompted you to join NCRC?
As a new HUD Housing Counseling agency, we were approved with little to no training on what we needed to do to stay in compliance with HUD. Our one HUD contact would often be very busy with a very large workload to answer our questions and would just refer us to the handbook. We also had a very complicated and expensive CMS software when we were on our own. 
Joining NCRC was a great decision for us. As soon as we joined, we had a team of people to help us. I have reached out many times with questions and received a response right away. We have had unlimited access to training that has been very helpful. We love Mpact Pro and find it very user friendly. 
How have you collaborated, or would you like to collaborate with other organizations to successfully achieve a goal?
We would love to collaborate with other organizations to increase affordable homeownership opportunities. 
Bold action is needed to address the increasing cost of housing and to support the residential needs of low-income individuals and families nationwide, which is why Habitat for Humanity has launched Cost of Home, a national advocacy campaign. Over the next 5 years, Habitat for Humanity of Kansas City will engage housing advocates, Habitat homeowners, volunteers and supporters, as well as federal, state and local policymakers to advance access to safe, decent and affordable homes by focusing on four key issues:  supply and preservation, land use, access to credit, and communities of opportunity.
Please share a success story or memorable moment from your work.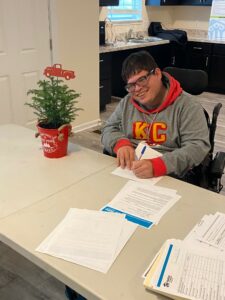 We recently closed on a mortgage for a man with a disability, Tony (pictured left). He was so appreciative to have a home that was accessible and could actually take a shower and not have to go to a community center. He said this home also represents a dream that many people with disabilities have – to have a fully accessible home where you can function freely and be who you want to be.
Connect with Humanity for Humanity of Kansas City:
Kylie Navarro is the Homeowner Services Director for Habitat for Humanity of Kansas City.
Pictured is the Habitat for Humanity of Kansas City staff.