Organization Praises Web Portal as Complete Solution for Submitting Loan Modification Applications
(WASHINGTON, DC) – HOPE LoanPort™ announced today that the National Community Reinvestment Coalition (NCRC), an association of more than 600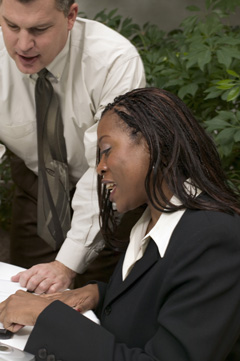 community-based organizations, is endorsing its web-based loan modification portal. Both the NCRC and many of its members are already using the groundbreaking new web-based housing counselor tool in order to streamline submission of completed loan modification applications for homeowners. On November 6, 2010, NCRC's Housing Counseling Network used the portal to provide mortgage assistance to 150 distressed households in a faith-based community in Prince Georges County, MD. The event was held in partnership with the National Black Church Initiative and Citi Mortgage.
NCRC provides a wide range of counseling services to homeowners nationwide, including default resolution counseling, loss mitigation and document file review, and will now be adding HOPE LoanPort™ to its arsenal of homeowner assistance options. Several NCRC members, including Detroit Non-Profit Housing, Home Repair Resource Center, Community Justice and Advocacy, Wayne County Foreclosure Prevention Program, United South Broadway Corporation and Operation Hope, are already using HOPE LoanPort™ to assist struggling homeowners.
HOPE LoanPort™ currently has thirteen (13) major mortgage servicers actively using its web portal, including American Home Mortgage Servicing, Inc., Bank of America, Bayview Loan Servicing, Chase, Citi, GMAC, MetLife®, Ocwen Loan Servicing, OneWest Bank, PNC Mortgage, Saxon Mortgage Services, SunTrust Mortgage, Inc. and Wells Fargo.
HOPE LoanPort™ also has commitments from more than 1,700 housing counselors from 360 organizations in 47 states, the District of Columbia and Puerto Rico.
The web portal is endorsed by the Department of Housing and Urban Development (HUD) and Maryland Congressman Steny Hoyer. The portal is also supported by state housing finance agencies in Arizona, Maryland, Nevada, North Carolina and Ohio.
President and CEO of NCRC, John Taylor, said, "NCRC is impressed with HOPE LoanPort™'s versatility, ease of use and ability to simplify the loan modification process for homeowners. We believe the portal gives our network of counselors a boost in dealing with the high volume of loan modification applications. It allows counselors to more easily send completed applications to the servicers with the assurance those applications will be reviewed on a timely basis. Because the servicers using the portal have agreed to provide regular status updates on the application, homeowners will also be able to more easily follow the progress of their applications."
Larry Gilmore, CEO of HOPE LoanPort™, added, "We are pleased that NCRC is partnering with us to assist homeowners. Together the NCRC and HOPE LoanPort™ will provide greater access to the portal to homeowners across the country."
HOPE LoanPort™, powered by RxOffice® and developed by the HOPE NOW Alliance, is a new web-based tool that streamlines loan modification applications on behalf of borrowers at-risk of foreclosure, allowing housing counselors to efficiently transmit completed applications to mortgage servicers. HOPE LoanPort™ is designed to improve the quality of both the application itself and the ability of servicers to make decisions on that application. For more information, please visit www.hopeloanportal.org.
About the National Community Reinvestment Coalition (NCRC):
The National Community Reinvestment Coalition is an association of more than 600 community-based organizations that promote access to basic banking services, including credit and savings, to create and sustain affordable housing, job development, and vibrant communities for America's working families.
NCRC provides foreclosure prevention counseling to homeowners through its Housing Counseling Network. Homeowners in need of help can call: 1-800-475-NCRC. www.ncrc.org
###
Media Contacts:
Brad Dwin

HOPE NOW

(202) 589-1938

Jesse Van Tol

NCRC

(202) 464-2709