Philadelphia and the rapid gentrification of downtown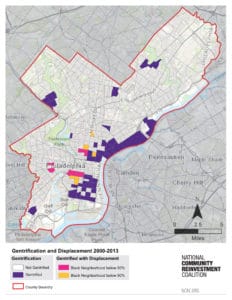 Philadelphia has been one of the most rapidly gentrifying metro areas in the nation. A recent study by NCRC found that between 2000 and 2013, 57 neighborhoods in Philadelphia showed signs of residential gentrification. This includes the influx of large numbers of college-educated residents, booming property values, and rising incomes. Mapping these neighborhoods shows the concentration of gentrification in and around Dickinson Narrows, Wharton, and the Northern Liberties areas of the city. All of these areas, particularly City Center, have also seen rapid increases in population over the past decade.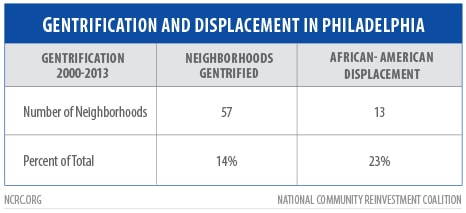 One aspect of neighborhood change that often accompanies gentrification is displacement of the residents who originally lived in the area. Displacement usually occurs along lines of income and race. In the case of Philadelphia, NCRC found that 23% of the neighborhoods that gentrified also lost a large percentage of their African-American population. Six of the gentrifying neighborhoods where residents were 90% African-American dropped below that level by more than 5%. Another seven neighborhoods, which were 50% African-American, dropped below the level by more than 5%. However, many of the gentrifying tracts showed indications of racial stability, or gentrification driven by middle-class, African-Americans, with 74% of tracts showing minimal racial displacement change during the study period.