Columbus, OH — The Central Ohio Community Land Trust (COCLT), a subsidiary of the Central Ohio Community Improvement Corporation (COCIC), has signed an agreement with NCRC Housing Rehab Fund to build 20 new homes in the Near Eastside and Southside neighborhoods. The homes will be sold under a new affordable housing program that reduces the sale price to a level that is affordable for low, moderate and middle-income residents.  
The project is seen as a groundbreaking way to address the needs for affordable homeownership of individuals and families whose earnings meet U.S. Department of Housing and Urban Development (HUD) eligibility guidelines. 
"The city of Columbus is excited to support this new partnership in two areas of the city where preservation of housing affordability is critical," said Andrew Ginther, mayor of the city of Columbus. 
The homes will be built on land that is leased to the homeowners for 99 years, providing a "shared equity" model of homeownership, where the COCLT owns the land and the homebuyer owns the dwelling. When the home is sold, the owner keeps 25% of the appreciation of the home, plus every dollar of principal invested. The model allows the subsequent buyer the ability to also purchase the home at an affordable rate, therefore building healthy, mixed-income neighborhoods. 
Ed Gorman, managing director of the NCRC Housing Rehab Fund, an organization with a mission in alignment with the GROWTH program of the National Community Reinvestment Coalition (NCRC), said, "Our fund exists to provide homeownership opportunities and community development in low- and moderate-income (LMI) neighborhoods or to LMI families.
"This project excited us because it is powered by a partnership dedicated to preserving affordable homeownership in fast-gentrifying areas in the city of Columbus. Along with our partners, we believe workers, teachers, firefighters and other working-class folks should have an opportunity to own a new home in a beautiful neighborhood that is close to where they work as well as non-work related amenities.
"We are delighted that as part of our Summit here in Columbus today, we are able to support the work of NCRC, the city and county's leadership and local community organizations by putting capital to work for the communities we care about. Special thanks to Huntington Bank for their creative underwriting that will support these new homeowners."
Chairman of the board for the NCRC Housing Rehab Fund John Taylor (President and Founder of NCRC) announced this new initiative at the ReinvestOhio Summit today. "Affordable Housing is a critical need here in Columbus, as in many of America's communities. It is nearly impossible to experience a decent and safe quality of life if you pay too much for housing. We are proud to work with the Land Bank and impact 20 of Columbus's families," Taylor said.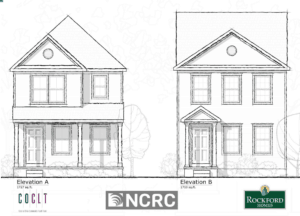 The 3 bedroom, 2 bathroom homes are being designed and built by Columbus-based Rockford Homes, and will include a 2-car garage. The project will be managed by NCRC Housing Rehab Fund staff and Darin Hall of the Civitas Development Group.
Cheryl Brooks Sullivan, Franklin County Treasurer and Chair of COCIC's board of directors, is pleased to see the launch of the Land Bank's new tool to address affordable homeownership needs in the fast-rising Columbus market. "The city of Columbus and Franklin County officials have placed a lot of faith in our ability to take available land and provide long-term, affordable homeownership in our communities. This project is the largest of its kind undertaken to date in the state of Ohio," said Sullivan.  
Today's "ReInvest Ohio" event in Columbus features roughly 400 organizations throughout the state, gathering to hear novel opportunities to create wealth and develop communities in an equitable way so that diverse, mixed-income communities thrive by bringing together community leaders, policymakers and financial institutions.   
For more information about the Land Trust and this development initiative, please contact Curtiss L. Williams, Sr., cwilliams@cocic.org, (614)724-4937, or visit https://cocic.org/. 
For more information about NCRC Housing Rehab Fund, please contact Ed Gorman, egorman@ncrc.org, (202) 464-2728 or visit www.growthbyncrc.org.  
For more information about the host of today's event, NCRC, please contact Alyssa Wiltse-Ahmad, awiltseahmad@ncrc.org or visit www.ncrc.org.