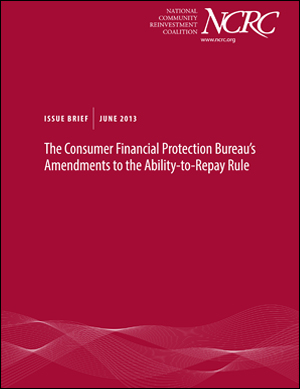 The Consumer Financial Protection Bureau (CFPB) recently issued a series of amendments to the Ability-to-Repay rule, which is set to go into effect January 10, 2014. The rule, originally issued in January of this year, holds lenders legally responsible for acting in good faith and making a reasonable determination, before closing, that a homebuyer has a realistic chance of repaying a mortgage loan. The rule will set the tone for the U.S. mortgage market because it places a legal duty on lenders to ensure that a consumer can afford to pay their mortgage. The law will presume lenders have complied with this duty only if they issue qualified mortgage (QM) loans. Because of this presumption, and the increased legal protection it provides, it is expected that almost all lenders will minimize the origination of non- QM loans. The CFPB's amendments to the rule relate directly to the underwriting requirements for qualified mortgages and address:
How loan originator compensation is to be calculated in determining points and fees;
The elimination of the 43 percent debt-to-Income ratio for some qualified mortgage loans issued by small lenders;
Increasing the amount that small lenders may exceed the average prime offer rate from 1.5 percent to 3.5 percent;
Delaying the phase-out of balloon-payment loans;
The exemption of government agencies, programs, and credit products from the ability-to-pay rule entirely.