Summary: Proposed Changes to CRA Q&A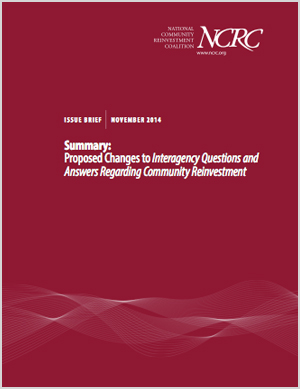 The Office of the Comptroller of the Currency, the Federal Reserve Board, and the Federal Deposit Insurance Corporation (the "Agencies") recently released a proposed update to the Community Reinvestment Act Q&A. The Agencies regularly review examination policies, procedures, and guidance to better serve the goals of CRA. Following the publication of the full Q&A in 2010 and the additions released in 2013, the Agencies identified several areas that warrant additional guidance. After the Agencies have considered comments received on this proposal, they plan to formally adopt and republish new and revised Q&A.
The deadline for comment is November 10, 2014.